Gardening is therapeutic. It's like having a child, planting them, and seeing them grow with flowers and veggies. Getting in touch with nature never harmed anyone, and having a little garden of yours is a path to reach out to your roots. Not only does it give you fresh and clean fruits, veggies, and herbs, but it keeps your mind relaxed and body working. If you are new to gardening, you might not know the wooden beds used to maintain your miniature garden. Similarly, people have come up with metal beds for the garden rather than wooden ones. So why do we need those beds, and what makes metal beds better than wooden ones? Through our unbiased Vego Garden Review, we will answer all of your questions to maintain your beautiful garden at the best cost.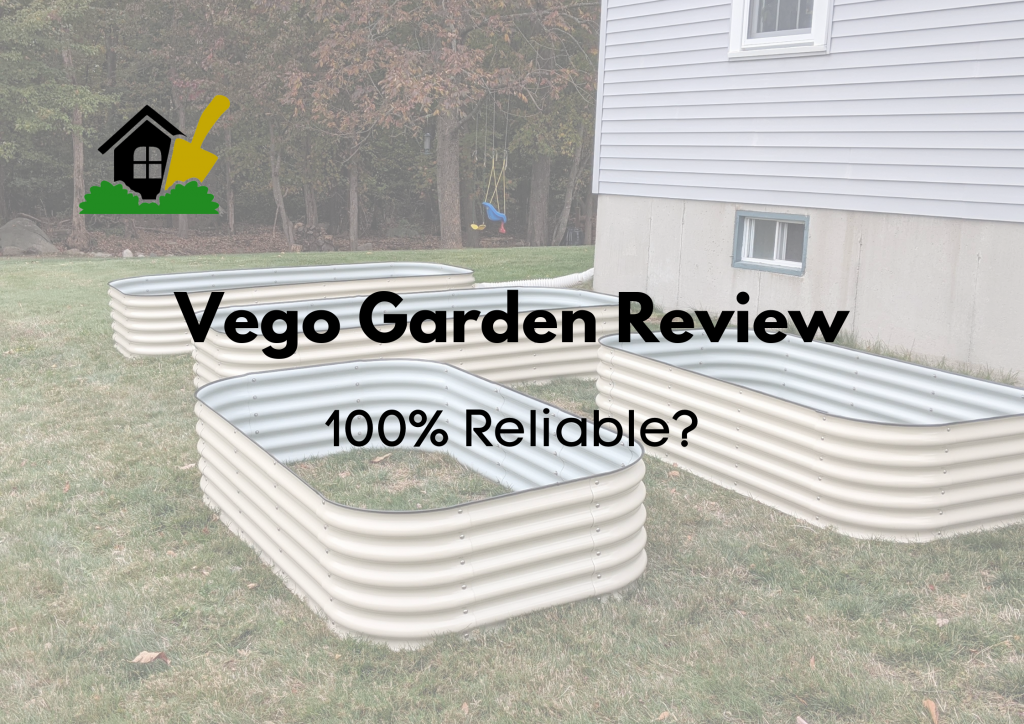 Let us detail to you about wooden beds and what they are helpful for. Wooden beds organize your garden of plants in order. They also improve boost drainage, and if you want to add different types of soils in your garden, these work the best. They look pretty aesthetic and are a more accessible way to organize your little garden in your backyard. Today's product review talks about metal beds from the Vego Garden; a much talked about the gardening device. What difference do metal beds make? And how will they improve your gardening? We will make it easier to decide what type of beds are best for your gardening journey by the end of this report.
Check Out: Aerogarden Sprout Review | The Perfect Start To Gardening?
Vego Garden Review | Improves Your Gardening?
Vego Garden is one of those leading brands among farmers and small gardeners. They look forward to making a change in the gardening styles and environment. Just after the launch of Vego Garden, it gained popularity from experienced gardeners and beginners. It's all because of how they work and make your gardening journey better. Through their metal garden beds, they make sure that you use your gardening area efficiently without messing around the space. If offered, you save more on your gardening by cutting down costs. The traditional wooden beds cost $3/ft per year, whereas Vego Garden's metal beds cost $0.4/ft per year.
Vego Garden Aluzinc Raised Garden Bed Kits, 17" Tall 9 in 1 Modular Metal Raised Planter Bed for Vegetables Flowers Patio Ground Planter Box-Olive Green
New Garden Experience with 9-in-1 Modular Design: Vego Garden kits feature an innovative modular design, which means you can assemble a kit into various configurations. In a 9-In-1 Kit, there are 9 possible configurations to fit your raised garden bed plans.
Long-Lasting Quality: With Aluzinc coated metal, our metal raised garden beds last 3-7 times longer than regular galvanized planter box or corrugated metal raised beds, far longer than wood raised garden bed.
Easy to Assemble and Safety First: Supplied 72pcs bolts, washers and nuts, Hand wrench, building your dream garden is as easy as tightening the fasteners. Oval design with no sharp corners and a rubber safety strip over the edges.
Healthier Roots, less bending down: At 17" it's the optimal depth for strong root growth. The higher depth also requires less bending down for more comfortable gardening. High rise design will also protect plants from animals.
Versatile Open-Bottom Raised Bed: Unlike wood or plastic, Vego Garden raised bed made up of Aluzinc steel, do not contaminate soil. You can create the environmentally-friendly box for your veggies & plants to grow.
Apart from this, they make an excellent effort by sponsoring nonprofit farms around the country. They provide them with their raised garden beds for free. Vego Garden aims to make the world a better and green place. They manufacture metal beds with over 20 years of life expectancy with eco-friendly metal materials. Unlike wooden beds that will rot within 4-5 years and will need extra replacements. Humans are already harming and cutting down many trees. Vego Garden wants to eliminate that by providing metal beds instead of wooden ones. They have garden beds with different shapes and sizes so that you get to choose according to your garden space.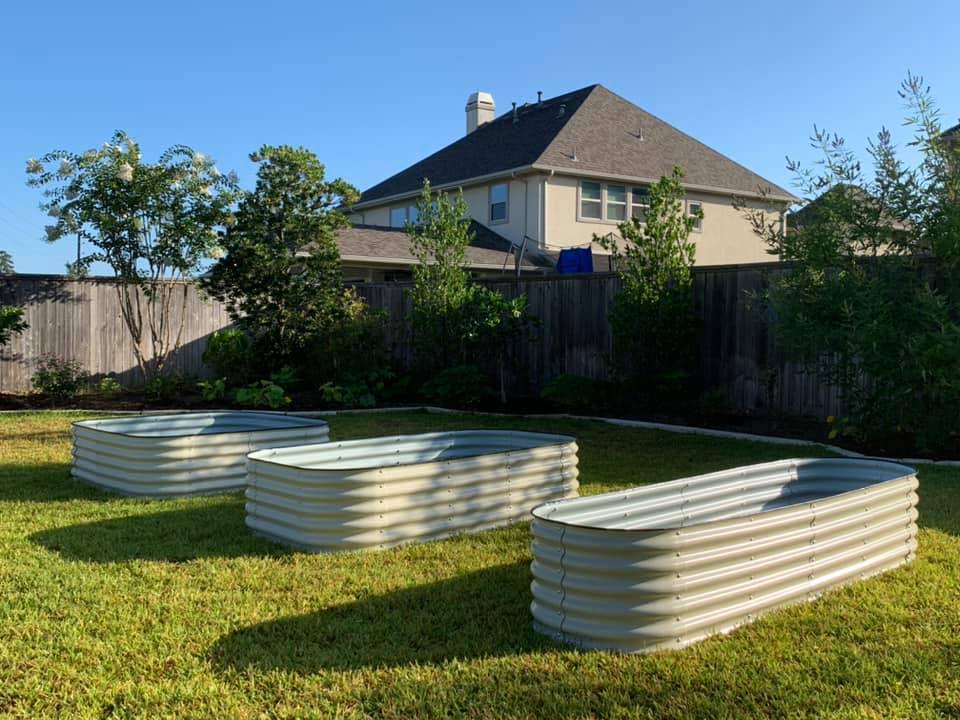 Vego garden beds last 3-4 times longer than galvanized planter boxes and way longer than wooden ones. They provide you with proper amounts of bolts, washers, nuts, and a hand wrench to build your metal bed safely and fast. Their beds are built with 17 inches for healthier roots and less bending down. These high-rise beds will also protect your garden from animals that can eat up your veggies and leaves. Vego Garden beds are open bottom to avoid soil contamination, unlike wooden beds that soak up the chemicals and will contaminate the soil for your plants. They are coated with Aluzinc to keep your metal beds rust-proof and help them survive every weather condition. It is designed with curved edges and rubber safety strips over the edges so that the sharp edges do not harm you, the kids, or your pet. Vego garden makes products for every type of consumer, including those who cannot afford DIY or a carpenter for their wooden boxes. Their beds are claimed to be much broader and taller than their competitors for providing a comfortable gardening journey.
Perks of Using Vego Garden Metal Beds
Environment-friendly metal 

Lasts up to 20 years 

Eliminate soil contamination

17 inches tall 

Comfortable use

Protects plants from small animals 

Cheaper than wooden beds 

Organizes your garden 

Different shapes and sizes 

Comes with safety materials

Rust-proof and all-weather resistant

Safe curved edges with supper strips

Cuts costs of carpenters and DIY materials 

Saves time
Cons of using Vego Garden Metal Beds
There are chances of the beds to creak
Customer feedback | Vego Graden Review 
Joshua commented, "I have been using wooden beds for more than a year now. Switching to this cheaper and better option was a good idea. They are easy to assemble and give us everything we need to assemble it. They are pretty tall, so it safeguards my baby plants from rabbits in my backyard."
Sheryl pinned, "Vego Garden has a great design and no sharp edges that are safe while gardening. The metal does not rust even in the rain; it stays the same. My garden now looks well organized and prettier."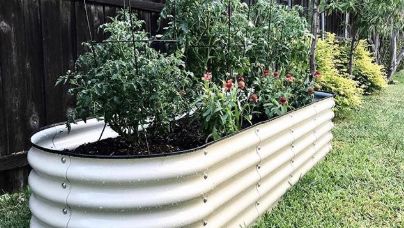 Mike added, " I'm 73 years old, and it's pretty challenging to maintain my garden. These metal beds from Vego Garden are a perfect size. I don't have to bend down while maintaining the garden. Previously I had deers eating up my veggies before I could, and now that's no more a problem. Saved a lot of money."
FAQs | Vego Garden Review
Are Vego Garden metal beds bottomless?
Yes, these beds are open from the bottom, which will allow proper water drainage by letting extra water escape. Your plants will get extra natural nutrients from the ground without rotting plant roots and keeping worms away from the plants. 
Do these Vego Garden beds get heated up in hot weather? 
According to Vego Garden, it won't get better. They will maintain the proper temperature because they are coated with Aluzinc, reflecting the excess light without absorbing it. 
Can I grow fruits in Vego Garden metal beds? 
Yes, they are safe to grow every type of fruit and plant. They last for over a decade and stay strong in every weather condition. It's also recyclable and safe for the environment. 
Also read: 11 Best Rabbit Repellents: Buying Guide & Reviews (2022)
Final Thoughts | Vego Garden Review
It's time to end today's  Vego Garden Review. Summing up all the information, Vego Garden has raised its sales and popularity amongst its consumers since its launch. They have proven to be a cheaper and better option for gardeners so far. Apart from this, they are also safer for children and older adults, which has impressed consumers with their safety options. The beds are easy to assemble and take less time and money while constructing. Consumers have loved its modular design and weather-resistant. So far, these metal beds have gotten in users' eyes for their more organized and better properties than wooden beds. 
Lastly, these beds not only take care of their user's safety and needs but also have made excellent efforts by using eco-friendly metal for their beds. They are keeping the environment safe and less chopping down of trees. We hope there is nothing that we left out about Vego Garden metal beds. If you have any questions left at the back of your mind, let us know through our comment section below.