Cuddly white, domesticated rabbits frolicking about in the garden might resemble picturesque scenery but their wild counterparts doing so, surely won't. Rabbits were introduced to Australia in the 1860s by European settlers but quickly became a menace to those who tried to set up vegetable gardens. As reported here, 200 million rabbits are the result of explosive breeding which is also the reason for the loss of native fauna species as well as flora.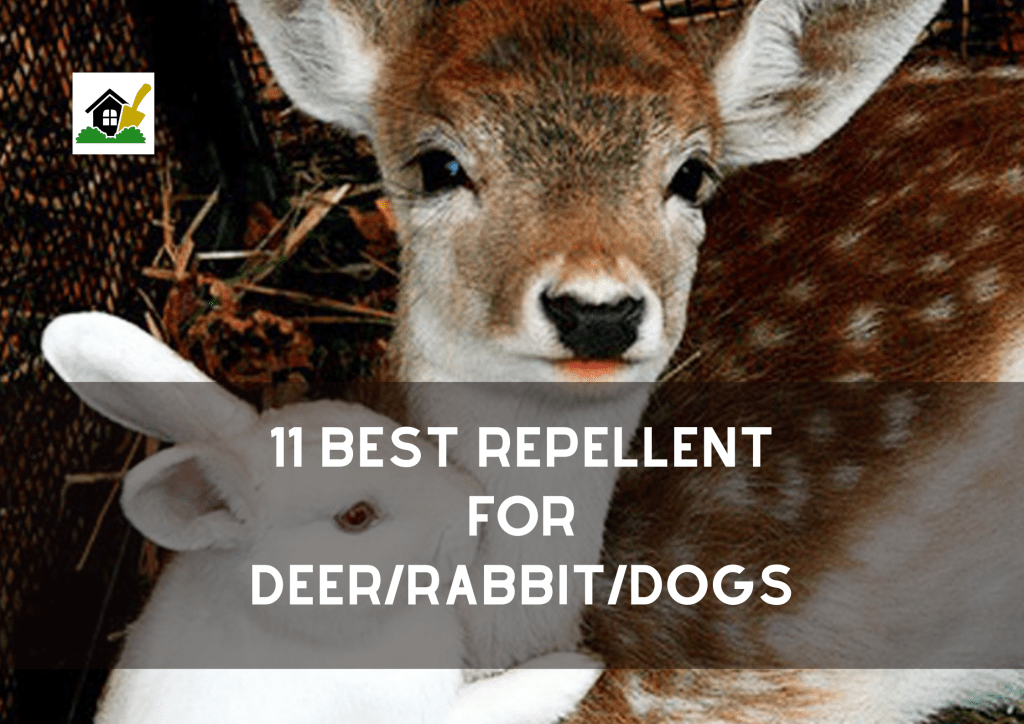 Having established the troublesome nature of rabbits, it is also necessary to know what kind of damage they cause. Apart from trampling over and feeding on leaves, barks, and vegetables, they also tend to feast on plant seeds. This leaves many plants on the verge of extinction, as propagation becomes impossible with a dwindling young population. If you are one of many people struggling to cope with this issue, look no further. My article will help you look for the best rabbit repellents. 
See Also: 11 Best Soil Moisture Meters for Your Garden | Buying Guide
11 Best Rabbit Repellents | Buying Guide 2022 
How Will You Look for Your Best Rabbit Repellent?
Wild rabbits or European rabbits constitute a majority of the rodents that pose a threat to gardens. As discussed earlier, they are an invasive species and can inhabit burrows (or 'warrens') on slopes and banks that are drainage efficient. Landscapes with well-drained land and shelter are all they require. They can also adapt their burrowing techniques to suit the soil. For an area with loose soil, they will select structures supported by tree roots and shrubs to prevent burrow collapse. Rabbits are herbivorous by nature and feast on plants parts high in Nitrogen content. Consequently, they will also gnaw or clip off young leaves, shoots, and bark of plants and trees.   
A few things should be kept in mind when you are looking for signs that these bunnies have started visiting your backyard. Tree bark chewed off at ground level, delicately pruned leaves of particularly young plants and pellet-shaped droppings are some of the telltale signs. Once you have determined that there are unwanted visitors, you can start looking for your best rabbit repellents. 
Here I will enlist a few types of available repellents, so go ahead and look for your preferred options. All of these are environment friendly so you need not consider that. 
Chemical-based: Chemical repellents consist of granular and liquid alternatives. Granular repellents are easy-to-apply and thrive in wet conditions. Liquids will either include sprays or concentrates, with the latter requiring dilution but offering greater coverage. Ingredients are generally garlic, putrid egg solids, white pepper, and even animal urine granules that either ward off rabbits with their pungent scent or rancid taste. They may also contain dried animal blood to mislead them into thinking a predator is on the prowl.   
Motion-sensors: Battery or solar-powered repellents like these rely on the rabbit to trip the motion detector. Once activated, either a sprinkler will be enabled, or a set of flashing lights that emulate a predator's eyes will be turned on to drive them away. The responsiveness of the sensors is restricted to only nimble movements so you need not worry about false alarms. Considering how they only cause distress to rabbits and not harm, these surely fall in the category of best rabbit repellents.   
Ultrasonic emitters: If these repellents had a USP, it'd be "Floats like a butterfly, stings like a bee." As I indicated, ultrasonic repellents are lightweight but pack an audible punch when it comes to keeping rabbits off your property. They periodically emit a frequency that is inaudible to humans but effectively vexes rabbits. It will typically work against other rodents like rats, moles, and mice, making it a contender for the best rabbit repellents.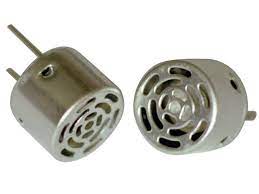 Fences: Probably the oldest repellent in the book, this is sometimes enough to keep four-legged pests away from your garden. However, rabbits, like most rodents, will be able to burrow under them, so ensure that the chicken wire or fencing is embedded five to six inches deep into the ground. 
Criteria for Purchase | Repellents for Deer, Rabbit & Dogs
Now that we have discussed the various types of repellents, let us explore the nuances of what to consider while buying them. Although you can easily go for one kind of repellent, it's best to assess your available equipment and make an economical choice. The following criteria will narrow things down for you:
Quality: Different kinds of rabbit repellents have their own USPs. Chemical repellents may last longer but have implications for the health of other animals or plants. Electronic rabbit repellents might be effective all-round but have a shorter shelf-life in case they are stowed away. Keeping these drawbacks in mind, it is necessary to review each product carefully and go for the best rabbit repellent you can afford.
Ease of application and usage: Most deterrents come with instruction manuals, irrespective of whether they are electronic rabbit repellents or chemicals. Most ultrasonic or motion-enabled repellents have a setup-and-forget routine, but some people might find a few models cumbersome to handle. Similarly using concentrate-based solutions can be a bother, especially when it comes to perfecting the proportions of the mixture. Check for detailed instructions and select only the least complex product.
Compatibility with pets: A lot of queries enquire whether the repellent will affect their pets or other garden-friendly animals like bees. Surely, no one would want a strong repellent that drives away their furry friends! Usually,, the manufacturer's website contains details pertinent to these issues. Be sure to go over a few FAQs to verify whether your best rabbit repellent troubles anyone other than the rodents!
Environment-friendly: As I've mentioned earlier, all repellents are environment-friendly as they do not employ any non-biodegradable substances. Chemical repellents are odor-based and taste-based so they cause no harm to the plants. Similarly, electronic repellents also deter only rabbits using either ultrasonic frequencies or motion-activated sprinklers. Nevertheless, it is essential to look for repellents that cause minimal harm or discomfort to anything other than the pests. 
Sustainability: Given how a budget is a major constraint, longevity and sustainability become a primary concern. Buying a repellent for a higher price may not guarantee a longer usage time. Similarly, buying one for too low may eventually turn out to be a loss. In such a situation, it is best to go for a generic electronic repellent without too many functions or a renowned chemical repellent.
Once you have considered these criteria, you can start deciding what your best rabbit repellent would look like. Keep reading to know our suggested alternatives!
Top Picks | 11 Best Rabbit Repellents 2022
Liquid Fence Deer & Rabbit Repellent Concentrate2
Liquid Fence's scent-oriented repellent has garnered positive feedback from reviews all over the web as one of the best rabbit repellents. As a company dedicated to "natural gardening", they claim to use environment-friendly ingredients in their products. Like a lot of customers have expressed, their repellent has a strong stench but works wonders for the garden's safety.
Quite understandable, since this smell comes from animal blood or urine in the ingredients, meant to scare away rodents. The putrid smell generally dissipates after a few hours in the sun or a few days in humid conditions. Moreover, the concentrate-based nature of this rabbit repellent makes it a durable and economical option for all budgets. 
Sale
Why Is It Worth Your Money?
Easy-to-mix and use

Works on a variety of plants and saplings

Long-lasting effects

Only needs to be applied once every three weeks

Sustainable since a marginal amount is used per application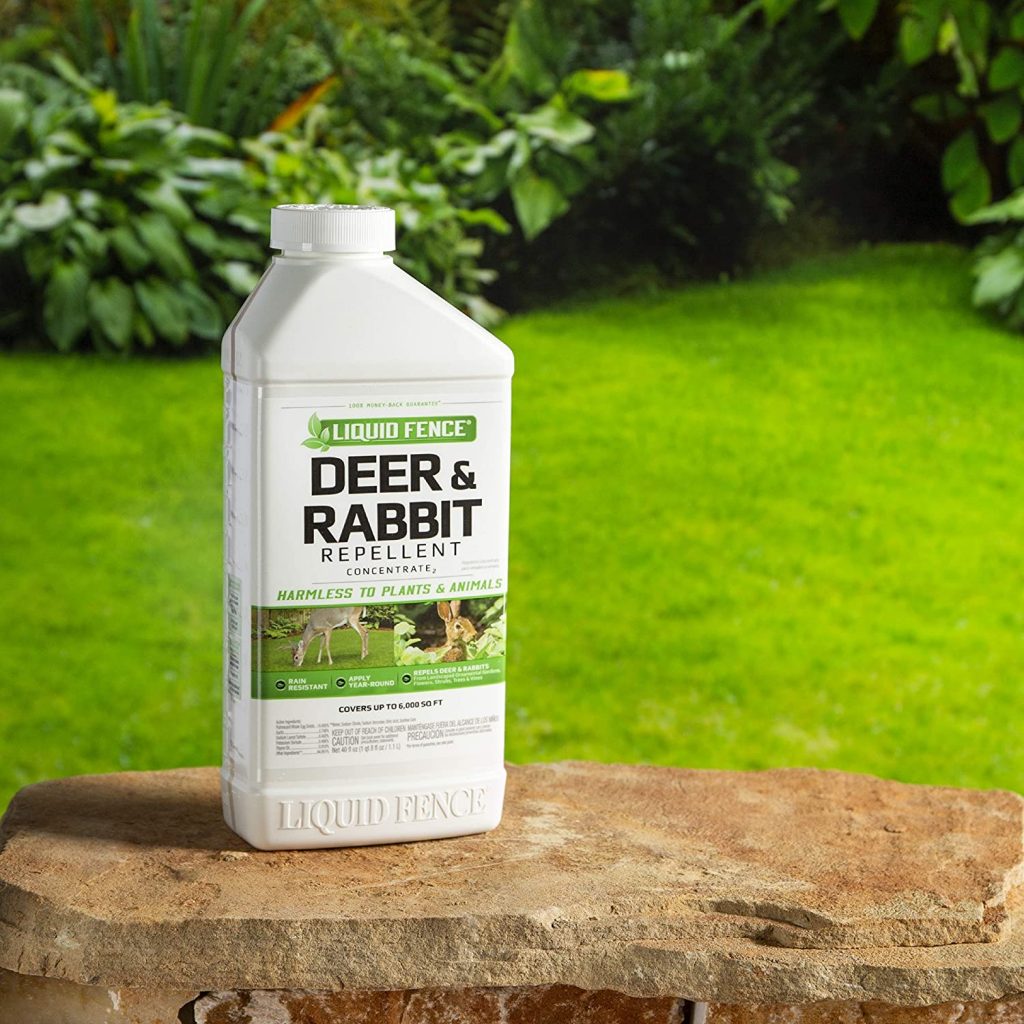 Limitations
Issues with the spray applicator that people often buy along with it

Not rain-resistant and requires re-application after a shower 
AMERFIST Solar Animal Repeller
An IP65 Waterproof connector with a USB charging port and flashing green LEDs are more than enough to count this among the arsenal of best rabbit repellents. Ultrasonic rabbit repellents are outstanding solutions to the rabbit issue and are slightly more tolerable alternatives than their chemical counterparts. AMERFIST's animal repeller has an adjustable frequency knob to keep out other animals as well. It has an activation range of 10 feet and also detects rabbits based on their motion. Subsequently, it scares them away by emitting ultrasonic frequencies and flashing the in-built lights to simulate a predator. This is a slightly costlier alternative since it's solar-powered but it packs a punch and is sturdier than it looks.
Why Is It Worth Your Money?
High-grade PIR sensors allow accurate detection of rabbits

Easy to setup

Weatherproof and UV-resistant

Dual charging option

Hassle-free maintenance 
Limitations
Not very reliable and can be faulty

Emitted frequencies might irritate humans at times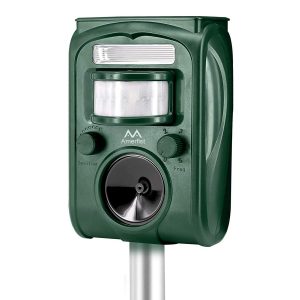 Shake-away Fox Urine Granules 
These pellet-based repellents are organic and non-lethal deterrents. Perfectly eco-friendly, the granules are injected with fox urine to instigate the rabbits' primal fears and set off their flight response. Automatically any area with these pellets will emanate the subtle scent of a predator to bunnies, discouraging them from taking a stroll. Works great on small animals like cottontail rabbits, as it simulates a naturally marked core-area territory of red foxes. If we consider the ready-to-use formula, it would probably top our list of best rabbit repellents. Like Liquid Fence, Shake-away's granular solution has similar odor issues but it's nothing unbearable.
Disclaimer: Though the packaging is quite secure and remains intact, always use gloves while applying this repellent. 
Sale
Shake Away 2852228 Fox Urine Granules, 28-1/2-Ounce - Brown/A
Takes advantage of the predator-prey relationship and prey animals' genetically programmed instinct of fear
Non-toxic, organic method to reduce and often eliminate pest browsing problems
Provides an easy way to apply time-released urine-impregnated granules
Great for deterring rabbits, groundhogs and possums
Why Is It Worth Your Money?
Requires no effort to prepare before application

Weather-resistant

Time-release capsules require no supervision

Can be applied around a variety of areas

Non-toxic in nature
Limitations
Not too effective against animals other than rabbits or rodents

May get used up quickly
I-must Spray
As their website mentions, I-Must Garden Rabbit Repellent pump spray is an environmentally safe, humane, and effective way to deter rabbits from rampaging in your garden. Biodegradable as well as fragrant ingredients(botanical mint oils) give it an edge over other pungent products. This scent, however, acts as a splendid irritant for rabbits as they cannot handle its intensity.  Natural stickers enhance its water-resistant capabilities, driving rabbits away via both smell and taste.
Application is also a breeze as the solution is readymade and comes in a nozzle-equipped container. I-must's spray does not seem to be very friendly towards certain plant species and has been complained about in that aspect.  
Sale
I Must Garden Deer Repellent: Spice Scent Deer Spray for Gardens & Plants – Natural Ingredients – 32oz Ready to Use
TRUSTED BY PROFESSIONALS – For over 15 years, I Must Garden has been the preferred brand of professional gardeners for use in public gardens and resorts. Trusted for its reliability, durability, and pleasant spice scent.
NATURALLY STRONGER – Combines natural ingredients that make plants inedible to deer AND powerful botanical oils that are highly irritating to their sense of smell. Contains triple the number of active ingredients than other repellents for ultimate plant protection
SAFE FOR PLANTS – Safe to spray directly on any plants that are being damaged by deer. Perfect for protecting Perennials (hostas, daylilies, roses, tulips, oriental lilies), Annuals (pansies, impatiens), Shrubs (roses, azaleas, rhododendron, hawthorn), and Vegetables
FORMULATED TO LAST LONGER – Contains strong natural sticking agents that make the repellent adhere to the leaves of your plant. Provides long-lasting protection – does not need to be re-applied after average rainfall
SAFE FOR PETS & POLLINATORS – Made from natural ingredients and botanical oils that are safe for pets, people, and the environment. Contains NO harmful chemicals or glues that threaten nearby wildlife
Why Is It Worth Your Money?
Eco-friendly ingredients 

Lasts for longer

Comes with a spray applicator

Available in different sizes
Limitations
Harmful for flowering plants like Petunias
Plantskydd Granular | Best Deer and Rabbit Repellent
Plantskydd's granular rabbit repellent provides an OMRI-listed option if you are concerned about the environment. Helpful in protecting small plants and shrubs, it is much more effective as a perimeter treatment when used with Plantskydd liquid formulation. Unlike Shake-Away, their granules contain 100% dried porcine or bovine blood.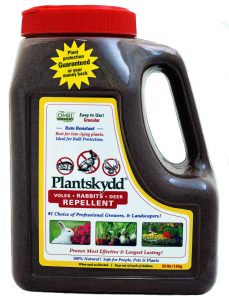 This formula ensures that this rabbit repellent helps chase away bigger animals like elk and deer as well. Similarly, it works for almost all rodents and small animals like voles, chipmunks and squirrels. According to their website, Plantskydd's rabbit repellent has also been subjected to independent research and field trials. These yielded a six-month longer coverage period during winter, compared to other brands of repellents. 
Plantskydd Animal Repellent - Repels Deer, Rabbits, Elk, Moose, Hares, Voles, Squirrels, Chipmunks and Other Herbivores; 3.5 LB Granular Shaker Jug (PS-VRD-3)
For year round control of deer, rabbits, elk, moose, hares, voles, squirrels, chipmunks and other herbivores
Protects approximately 1,750 square feet
Application frequency: Active growing season (6-8 weeks), Dormant Season (apply at start of dormant season and again before snow fall).
100% Dried Blood (Porcine and/or Bovine). No animals parts are used.
OMRI listed (Organic Materials Review Institute) for Organic Use. Made in the USA.
Why Is It Worth Your Money?
Effective in areas with heavy rain and/or snowfall

Cleared for use in vegetable gardens, fruit trees, and food crops

Comes with a shaker bag or spreader(for larger areas)

Built-in fertilizer(12 N) to promote plant growth

Available in larger quantities for prolonged usage   
Limitations
Might be addictive and harmful for dogs

Unable to repel all small animals equally
Nature's Mace | Best Rabbit Repellent Spray
Nature's Mace has received a lot of praise for their on-time shipping and lab-tested, stronger formulas. Apart from the usual claims of high-quality, industry-standard ingredients being used, they provide a high-quality nozzle applicator (capable of spraying up to 18 feet!). The solution sticks to various surfaces on plants and works on a time-bound release mechanism, similar to the Shake-away for urine granules. Additionally, it does not require any other product to be used along with it for maximum efficiency. It does seem to require a rotational application period of 7-10 days, which is a little more compared to the other alternatives listed here.   
Sale
Nature's MACE Deer & Rabbit 40oz Spray & Concentrate/Covers 29,400 Sq. Ft. / Repel Deer from Your Home & Garden/Safe to use Around Children, Plants & Produce/Protect Your Garden Instantly
POWERFUL DEER REPELLANT: Our university backed spray has 400% more active ingredients than leading brands. Our repellent works best for deer, however it does contain ingredients used in our rabbit repellent.
ALL-NATURAL INGREDIENTS: Our deer repellent is strong and powerful because it uses a combination of scents & odors found in nature.
SAFE FOR USE: Nature's MACE products are bio-degradable and non-toxic. Our spray is safe for use arounds plants, pets, vegetation and children. Feel confident in protecting your garden without using harmful chemical on vegetables and fruits.
YEAR-ROUND PROTECTION: Repel Deer all season long weather it spring, summer, fall or winter. Our Spray will not wash off during rain, irrigation or normal use.
TREAT 29,400 SQ. FT.: Our Deer repellent formula is so strong; a few sprays will create a deer free barrier in minutes. Cover 29,400 Sq Ft with our deer & rabbit repellent.
Why Is It Worth Your Money?
Two products at an affordable value

Sturdy spray bottle applicator

High coverage time (3 months or more)

Absence of any foul-smelling components

Safe for humans and pets 
Limitations
Not too highly rated by customers

Frequently out-of-stock on renowned e-commerce platforms like Amazon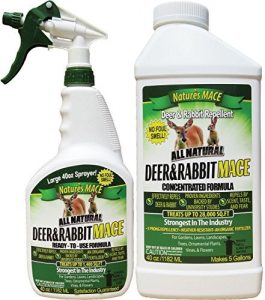 Havahart 5277 Critter Ridder Motion Sprinkler
This motion-detector-enabled sprinkler is an unexpendable addition to any gardener's anti-rabbit arsenal. Its 60-foot infrared detection range picks up animal movement as well as body heat patterns. Unlike the other electronic repellents, the sprinkler function is probably the simplest alternative to drive away rabbits. Once within the detection range, the sprinkler activates and sprays jets of water at the rabbit to scare them away.
The Critter Ridder, as you might have guessed, also has a continuous spray setting, allowing it to be used as a sprinkler unit. Havahart's sprinkler head consists of a distance limiter wheel that can be used to spray water upto 35 feet. The camouflaged coloring is an added advantage as it catches rabbits off guard and startles them better.   
Sale
Havahart 5277 Critter Ridder Motion Activated Animal Repellent and Sprinkler - Repel Cats, Dogs, Chipmunks, Groundhogs, Squirrels, Skunks, Deer, and More
Naturally Repels – Repels nuisance animals such as birds, cats, chipmunks, deer, dogs, groundhogs, opossums, rabbits, raccoons, skunks, and squirrels
Detects & Deters – The device releases a startling surge of water to scare animals away and conditions them to avoid the area in the future
Motion-Activated – An infrared sensor detects animal heat and movement within 100 feet, triggering the device to spray the invader
Multiple Settings – 4 sensitivity settings allow you to adjust for your target animal, or the continuous spray setting allows for use as a sprinkler
Eco-Friendly Design – The motion-activated repellent uses only 2-3 cups of water per spray, making it economical and environmentally conscious
Why Is It Worth Your Money?
Multiple uses and settings

Humane alternative for rabbits and plants alike

Requires only 2-3 cups of water; minimizes wastage

Infrared sensor stays active 24/7

Very sensitive to rabbits' body heat
Limitations
Sensor sensitivity issues on warmer days

Flimsy and might have durability issues
PREDATORGUARD | Best Deer Coyote Raccoon Repellent
A repellent that looks as intimidating as its function?! Predatorguard is surely one of my preferred options among the best rabbit repellents around. Its special feature is that it is a visual deterrent that imitates a natural predator's flashing eyes to keep away rabbits. Made with tough, industry-grade equipment, this device also has an auto-charging LED unit. It powers up during the day and stays on at night. Now at this point, you might think: Wouldn't the rabbits get used to the patterns of light they're seeing? The answer is no. PREDATORGUARD uses a unique alternating pattern of flashing lights to delude rabbits into thinking there is a natural predator nearby. This product can also be mounted at different levels between 1-8 feet above the ground.
Predator Guard Solar Powered Predator Deterrent LED Light - Scares & Deters Nocturnal Animals Away, Built to Repel Coyote, Fox, Skunk, Bear, Racoon & Wild Creatures - Protect Your Property!
Long-lasting and Durable: Predator Guard Solar Powered Deterrent Light is made with industrial-grade components for unmatched durability and longevity. Built to last!
Versatile and Effective: Repels a wide range of common predators including Fox, Wolf, Coyote, Raccoon, Skunk, and Bear. Protects gardens, orchards, vineyards, ponds, livestock, chicken coops, trash bins, and more. Do to ensure the highest quality and durability.
Automatic Solar LED Unit: This solar-powered deterrent light charges itself during the day and turns on automatically at night, providing hassle-free protection. Our exclusive alternating flashing pattern ensures animals do not become accustomed to the lights, maximizing effectiveness.
Satisfaction Guaranteed: We stand behind our customers and our products. Try Predator Guard deterrent lights 100% Risk-Free for 30 days. If you are not DELIGHTED with the results, we offer a full refund. All units come with a 3-Year Warranty against defects.
Easy to Use and Maintain: Predator Guard Solar Powered Deterrent Light is designed for ease of use. Simply set it up once, and you're done!
Why Is It Worth Your Money?
Long-life and no-maintenance required

Repels predators as well as prey animals like rabbits

3-year defect warranty and 1 month 100% refund policy

High quality LED lights that are prominent at night

Replaceable battery
Limitations
Not very effective against deer and raccoon
Zovenchi | Best Ultrasonic Rabbit Repellent
If you enjoyed watching Disney's Wall-E, this product might surprise you slightly. This device is compact and portable, making it a genuine contender among the best rabbit repellents. An infrared PIR motion sensor detects miniature intruders and scares them away by emitting powerful ultrasonic frequencies. Inbuilt solar charging panels and an unsealed design make it cost-effective and eco-friendly all in one go. Though is feels quite similar to the AMERFIST ultrasonic repellent,  Zovenchi's repellent has a few differences. The PIR sensor seems to be a bit weaker and has trouble coping in extremely moist conditions. More interestingly, the seller does not have a separate website or portal where customers can solve their queries.   
ZOVENCHI Ultrasonic Animal Pest Repellent, Outdoor Solar Powered Pest and Animal Repeller, Waterproof Deterrent Scarer - Motion Sensor, Repel Cat, Dog, Rabbits, Fox, Raccoons, Skunk, Rats
【Keep Pests Away】The unit emits sound waves at a frequency which is only audible to Animals. Keep cats, dogs, rodents and other unwanted pests out of your garden. Ideal for protecting lawns, bird feeders, flower beds, ponds and path ways.
【Solar Powered】Solar panels can effectively charge the product to maintain a long time all day head standby. On the outdoor do not have to worry about the product will need power outlet.
【Motion Sensor】Once animals enter the protection range, the PIR sensor starts to work, then it will emit ultrasonic waves and the red light will be turned on so that it repels the animal.
【Practical Designs】Equipped with solar panel as the power supply, cost effective and eco-friendly. Unsealed design allows it to work under any weather, water resistant,, windproof, sun protective and rustless.
【Easy to Use】Just insert it to ground soil where there is plenty of sun light and switch it on. Portable and small size design, it can be installed in your home, garden, courtyard, or somewhere else.
Why Is It Worth Your Money?
Compact design

Easy to place and use

Rechargeable via solar-powered functions

Emits prominent sonic frequencies

Lightweight
Limitations
Too many malfunction reports filed by customers

Ineffective for raccoons
Orbit62100 Yard Enforcer
Slightly costly alternative but its features make it worth every penny. For something that looks like a hybrid jackhammer, it surely packs a punch! Intelligent sensing technology allows it to detect whether wind blowing around is from a nearby animal's movement. You can also use it at night only, day only, or for 24 hours non-stop! Along with a stable planting design, it also has an adjustable spray coverage ranging from partial to 360-degree watering. The Yard Enforcer makes use of expansion ports to do this. An upgraded Critter Rider counterpart, this device emits a loud sound before spraying water to startle rabbits more effectively. 
Sale
Orbit 62100 Yard Enforcer Motion-Activated Sprinkler with Day & Night Detection Modes,Black
HUMANELY DETERS ANIMALS: Keeps animals out of plants, yards and gardens using a harmless spray of water
UNIQUE DAY AND NIGHT DETECTION: The only deterrent sprinkler on the market with options for day only, night only, or 24 hour protection, giving you the flexibility to ensure the Yard Enforcer only activates when you need it
STABLE DESIGN: Simply press spike into soil or turf to firmly hold the Yard Enforcer in place.
SAVE WATER AND BATTERY LIFE: Includes sensing technology for optimum water and battery conservation; get over 7,500 activation cycles on just 4 AA alkaline batteries and as little as 2 cups of water per activation.
INTELLIGENT SENSING TECHNOLOGY: Sensing technology learns the difference between trees and animals, so your water will not activate every time the wind blows.
Why Is It Worth Your Money?
Performs up to 7,500 on-off cycles 

Long-distance security up to 70 feet

Detects movement in areas as large as 3,840 sq ft

Brass-hose for easy, leakage-free connection

High-quality durable plastic build
Limitations
Questionable customer support 
Ortho Deer B Gon Deer and Rabbit Repellent Concentrate, 32-Ounce
Ortho's Deer B Gon concentrate is an Amazon's choice alternative for your best rabbit repellents. It strikes a middle ground when it comes to scent, as it is "stink-free" but has no fragrant components. However, this product also uses essential oils and putrescent egg solids in the formula, so its effectiveness is unquestionable. As a result, it is not only a scent-only repellent but a taste-based deterrent too. Ortho has a good measure of company social responsibility as their projects suggest and this product is included in that vision. Though it requires dilution, this concentrate is already a bestseller and the "Ortho guarantee" is an indicator of the same.   
Why Is It Worth Your Money?
Proven, established product

Only needs to be applied on a monthly basis

Works for Deer and Elk as well

Needs only 20 minutes to dry before it can start working

Safe to use near lawns
Limitations  
Concentrate viscosity may lead to clogging of the nozzle applicator
FAQ | Best Rabbit Repellents
What Is the Best Rabbit Repellent?
While there is no "best rabbit repellent" per se, you can browse through my list to select your preferred alternative. For instance, it might not be worth taking a risk with ultrasonic repellents if you have fur babies at home. It might disturb them and cause discomfort. Similarly, going directly for a costly alternative like the Orbit 62100 would be a waste if you only have a few critters to worry about. In such cases, the granular and concentrate-based solutions are often the best options. 
Where to Buy Rabbit Repellent?
A variety of retailers and wholesalers keep rabbit repellents. If you are unable to get a hold of them from your local outlets, try online merchants like Amazon or eBay. Additionally, I have listed some of the other sites that sell the best rabbit repellents as well. One of the best ways to look for such a product is to try the parent website(like Ortho and so on) since reselling websites might be out of stock often. 
Is Rabbit Repellent Safe for Dogs?
Most rabbit repellents are safe for dogs and cats as they are meant to drive away smaller animals like rodents. However, some customers have lodged complaints against specific ultrasonic repellents that troubled not only their pets but themselves as well. In such a case, it is generally best to opt for either visual or solution-based repellents.   
Will Rabbit Repellent Work on Squirrels?
Rabbit repellents are often equipped to be effective against rodents or even deer. As such, it is important to check whether it will be effective against squirrels or not. Go over all available information carefully to select your preferred repellent!
Closure | Best Repellents for Rabbit, Deer & Dogs
Best rabbit repellents come in all shapes and sizes and I have tried to do justice to all kinds in my article. Like I mentioned before, it is important to assess your needs and conditions before buying such a product. Generally, people prefer to buy granular and concentrate-based solutions due to their hassle-free nature.
However, with developments in technology, electronic repellents have been facing significantly lesser hiccups. In any case, make sure to read the specifications of the products before you buy them.