Trying to figure out why Shake-Away rodent repellent reviews are trending? Fret not, as we shall elaborate and address every relevant detail regarding Shake-Away rodent repellents in this article. 
Rodents are probably the most widespread community of pests around the world. Equipped with a robust immunity, they can survive in a variety of temperatures and weather conditions. Additionally, these rapid breeders are not only disease carriers but cause considerable property damage as well. The repellent industry has responded to their threat well as they keep updating their arsenal of deterrents. However, a plethora of options is more likely to confuse you more as you find all of them equally beneficial.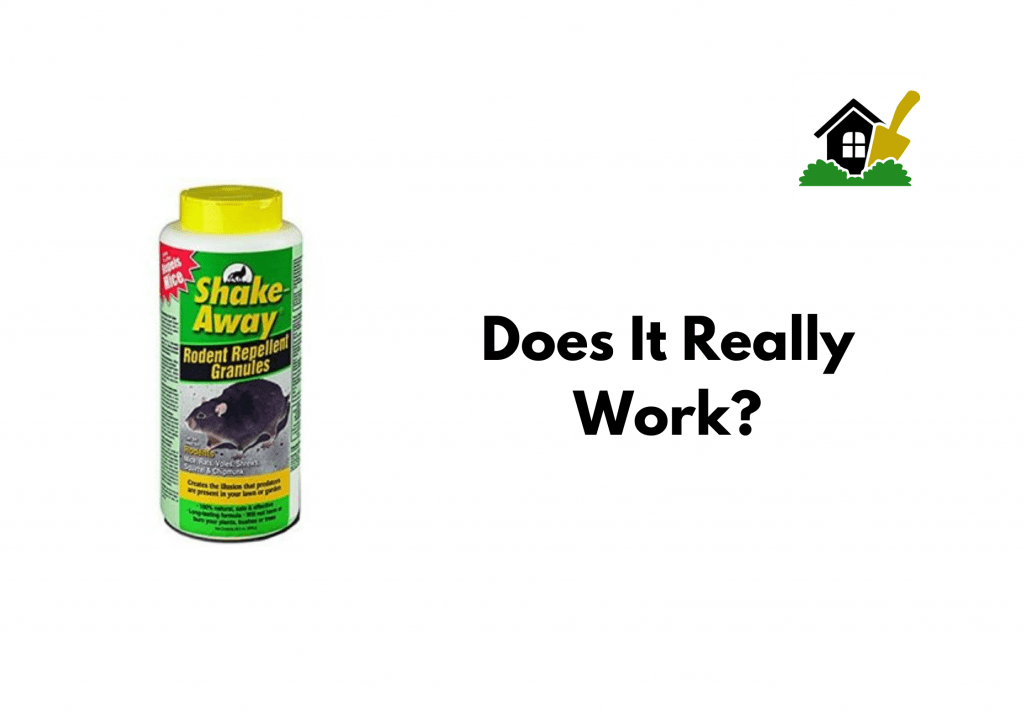 Various types of rodent repellents are available for sale and all of them have different ways of functioning. Assessing whether an electronic repellent would suit your surroundings best or a granular one would do just fine, is of prime importance. Let's assume you have and happened to consider Shake-Away as your ideal alternative. Now you can read on and get an overview of whether you should go for this repellent!
You Might Like: Thermacell Mosquito Repellent Reviews | Does It Work?
Shake-Away Rodent Repellent Reviews
| Are They Worth Buying?
This repellent is manufactured by Shake-Away in the United States. Their product has been verified and listed by the OMRI(Organic Materials Review Institute) meaning that it is safe for use in organic production/food processing. Apart from that, they claim that their product is 100% natural and non-toxic. Shake-Away also provides an instant effect guarantee that they strive to fulfill. A refund or replacement option is available to customers if they do not get satisfactory improvements after two weeks. The only loophole seems to be a lack of evidence from field tests as their website only mentions that "The pack's formula has been shown to also be effective on rats and voles in field testing conducted by our research staff."
Shake Away 5006358 Rodent Repellent Granules, 5-Pound
Takes advantage of the predator-prey relationship and prey animals' genetically programmed instinct of fear
Non-toxic, organic method to reduce and often eliminate pest browsing problems
Provides an easy way to apply time-released urine-impregnated granules
The most effective and easy-to-use rodent repellent in the industry today
allow up to a two-week period... for granules to take full effect
Consolidated market surveys suggest that more than 50% of its users were extremely satisfied with the outcome. As guaranteed, most of these users were appreciative of the repellents' effectiveness and their quick response time.
Treatment of an area with Shake-Away rodent repellents depends on the airflow. Places with constricted airflow like drawers and cabinets will require lesser packs which will last for about 8 weeks. More ventilated areas such as porches or garages, on the other hand, will need frequent replacement within 2-4 weeks. Now, let us proceed and take a look at the working mechanism of this repellent. 
Shake-Away Rodent Repellent | How It Works?
Shake-Away rodent repellent reviews elaborate why the company has nearly 40 years combined experience in studying animal scent communication. The repellent consists of granules armed with a time-bound odor release mechanism. Now what this does is employs a human-friendly scent that irritates the rodent's nervous system. In doing so it deters all kinds of rodents like rats, mice, and voles from encroaching the treated area.
Ingredients include peppermint, spearmint, rosemary oil extracts, and dried blood. Consequently, this purely natural mixture makes it eco-friendly as well as a fragrant alternative to fox urine or animal blood granules. No bait packs of any sort are included, so you don't have to worry about dead rodents near the concerned area.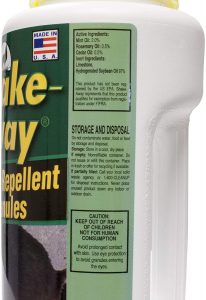 Perks
After going through several reviews, I came across a few unique advantages. Here are a few of those in brief:
Safe for kids

Easy to apply 

Ready to use 

Organic  

Fragrant smelling

Non-messy 

Plant-friendly 

Cruelty-free

Granule size allows for application on all surfaces

The minimal application needed per use
Cons
Despite its proven effectiveness, Shake-Away is not the "perfect" repellent. Needless to mention, it has a few handicaps that you must remember while looking at Shake-Away rodent repellent reviews. Let us go through those:
Requires re-application as suggested

Not rain resistant

Frequently out-of-stock in stores 

Larger supplies are often unavailable on online portals

Packaging issues and spillage

Not effective against chipmunks and moles
How To Use Shake-Away Rodent Repellent?
Misuse or improper use of repellents like Shake-Away's product will often render it useless. Hence, most Shake-Away rodent repellent reviews will suggest a step-by-step guide for the correct way to use it. Take a look at what those steps are right here:
Identify the area which is infested by rodents or requires treatment 

Measure the area with appropriate instruments and note down the specifics 

Apply 1 oz. of the Shake-Away rodent repellent granules for every 30 linear feet of the area of application.

Suggested re-application after every 30 days or after a heavy shower

Results should be visible within two weeks
Precautions/Direction for use 
First and foremost, these products should not be placed in the proximity of children or pets. Though they are non-toxic, they are potential choking hazards and precautions must be taken for the same. Granules like these are also partially dependent on airflow and weather conditions for their effectiveness. Subsequently, you must ensure applying a slightly larger quantity of the granules in a well-ventilated area. In case the weather is humid or there has been a rainstorm recently, make sure you reapply the repellent as it might get washed away. For slight changes in either of these parameters, you might need an upgrade in the quantity of repellent purchased; so keep that in mind. 
Though this product might look simple to apply and maintain, a few things must be kept in mind. Although you will see instantaneous results, they may require thorough supervision. For the granular solution to last longer, you must also check whether you have screwed the bottle's lid tightly after each use. However, no specific treatment is needed for expired granules as they are completely safe to dispose of. These directions should be more than adequate to make you aware of the do's and don't's when handling pests like rodents!
FAQ'S | Shake-Away Rodent Repellent Reviews
This section will look to address all your doubts regarding this product. Hence we have handpicked a selection of the most searched and common questions to refer to, at your disposal. 
Does Shake-Away Rodent Repellent Work?
Out of 656 users on Amazon, 63% gave the product a good 4-star rating. Apart from that most customers were satisfied with the swift nature of results yielded by Shake-Away's rodent repellent. Though official testimonies have not been given by notable authorities and lack commendable statistics, Shake-Away has been a stalwart in the repellent industry. However, a percentage of users complained about its inefficiency in the case of chipmunks, squirrels, and moles. They seem to ignore this repellent and it is best if you avoid this product if you're looking to deter these animals.
Where to Buy Shake-Away Rodent Repellent?
Online retail sites like Amazon, PestSupply, and Walmart sell Shake-Away's rodent repellents. Though no offline store suggestions may seem a bit suspicious, it is primarily because the re-stocking is slow. If no other options are available, Shake-Away's website has a cart function that is linked to Amazon. However, it also has a dealer locator that might help you out.
What Is In Shake-Away Rodent Repellents?
Shake-Away rodent repellent granules consist of spearmint, peppermint, and rosemary oil extracts as well as a portion of dried animal blood. Though the sharp-smelling ingredients already throw off rodents, the animal blood component instills fear and further deters them.
How To Use Shake-Away Rodent Repellents?
First, simply identify the area in need of treatment. Proceed to apply 1 oz. of Shake-Away rodent repellent granules for every 30 linear feet. Like I've mentioned, the application is a breeze but what is tiring is checking for reapplication. Ensure that you follow a 30-day cycle and reapply the repellent after the slightest of showers.  
Also read: 11 Best Rabbit Repellents: Buying Guide & Reviews (2022)
Closure | Shake-Away Rodent Repellent 
In this article, I have tried to cover every dimension of information regarding Shake-Away rodent repellents. As a consumer myself, I have faced difficulties regarding such reviews and hence I've tried to incorporate every query possible. Subsequently, I've also ensured that the information is concise and properly segmented, so that you may access whichever part you need. However, I would implore you to go through customer experiences and look for similarities to your situation to gain an even better understanding. 
Shake-Away rodent repellents have been setting the benchmark for granular and cruelty-free deterrents since way back. Combined with the ease of application and management, these are easily one of the best repellents out there. Though there may be a lot of pros, the cons may easily outweigh them in some cases. So, it is necessary to analyze your situation well and then make your final decision on whether to buy such a product.