Water or moisture is a determining factor in any sort of gardening setup. It is one of the basic requirements for the growth of any type of flora before any other form of nutrition. Whether it is the humidity of the environment or moisture present in the soil, all of it is crucial. Soil moisture, in this aspect, is an indispensable element. This study conducted in 2008 reports how it influences soil solution composition to reiterate the role of innate moisture content.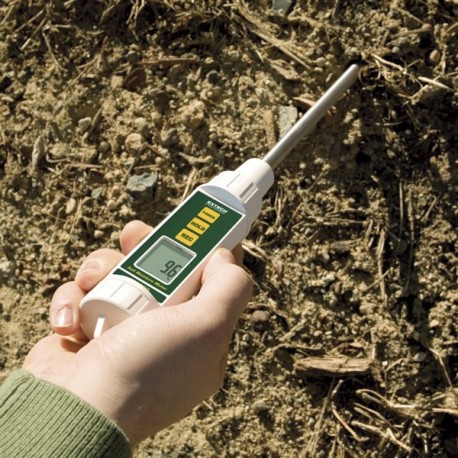 One of the best ways to measure this is to use soil moisture meters. A soil moisture meter is a tool consisting of a metallic probe that measures the volumetric water content of the soil. Most soil moisture meters will indicate whether the discovered water content is adequate to nourish your plants' roots. Both digital and analog versions are available, and even analog soil moisture meters will include more than one indicator (for light, soil acidity or alkalinity, etc.). Disregarding its type, all of these tools are extremely handy in determining the exact amount of moisture and in helping you ditch the guessing game. Fed up with trying to gauge why even your clay-rich soil is not moist enough? Worry not, as I have prepared this guide to discern some of the best soil moisture meters. 
See Also: How to Get Rid of Dandelions Permanently? (Working Hacks)
11 Best Soil Moisture Meters for Your Garden
What to Look for in a Soil Moisture Meter?
Though all soil moisture meters are moderately cheaper gardening tools, it is important to know the specifics to avoid any potential grievance. While deciding upon your best soil moisture meter, try to keep in mind its usage, required display type, soil type, and additional specifications you may desire. The following points should narrow down what your best soil moisture meter should look like:
Basic/Analog vs Smart/Digital: As I mentioned before, soil moisture meters go all the way from just ascertaining the present soil water content to measuring light, soil acidity and alkalinity, etc. Models might range from having a meter as simple as a speedometer with marked out levels to ones with comparatively complex button layouts. Analog meters do not require batteries or USB charging and can be used instantly while digital meters might need either. Some might even require pairing with a Bluetooth-enabled device like a phone or laptop. However, those will give the owner the option to check parameters remotely and even access tailored advice for different plants to improve their health. Make sure the measurements are comprehensible and the display is visible. Some meters will even have angled displays to allow for easy reading while the probe is buried in the soil.   

Probe type and length: You must take into consideration the texture and type of the soil where you are going to be using your soil moisture meter. Even if it is the best soil moisture meter you are using, uneven or excess pressure from the soil can damage the probe. Soil types rich in clay might be heavier and require a probe at least a quarter to half-inch thick. Sandy soil types will do with a probe that is 0.2-0.3 centimeters thick. Most indoor plants will make do with the latter but some outdoor plants may require a sturdier version of the meter probe. I would suggest feeling the soil with your hand before inserting the probe lest you jam or force it inside, causing damage. 

Indicators: Most soil moisture meters will have one extra measurement included within, apart from the standard moisture detector. The simplest model will consist of an inbuilt sensor to detect moisture content by measuring the conductivity of electricity, how much voltage the soil produces, etc. Output is displayed on the reading meter through a numerical scale, which is often color-coded for simpler understanding. While most digital meters will have multiple readings of various kinds, some analog meters may also possess some of the following indicators:-

pH sensors: Some meters will also include the inherent acidity or alkalinity of the soil to enunciate how hospitable it is for various plants. A pH range of 5.0 to 8.0 is considered to be the best indicator of soil acidity (5 being most acidic and 8 being most alkaline). 

Ambient light sensors: All plants have different requirements when it comes to sunlight. Some might require indirect light while others may thrive in direct sunlight. Ambient light sensors present in some soil moisture meters will indicate the amount of light available in the area. 

Temperature sensors: Temperature is one of the more basic albeit crucial indicators that some soil moisture meters come equipped with. Such indicators will help you further pinpoint the perfect timing for gardening various plants.

Precision: Since you are looking to ditch any assumptions, your best soil moisture meter must display precise readings. Digital meters will yield the exact amount of moisture content while analog meters will only give an estimate between 1-10. Some digital scales will also accommodate calibration to regulate the scale according to the users' needs especially if it is for composting, specific humidity, etc. 
11 Best Soil Moisture Meters
FAQs | Best Soil Moisture Meter
What is the best soil moisture meter?
As I explained here, the best soil moisture meter for you will depend on what you are looking for. If you are a casual gardener XLUX Soil Moisture meter will be your option while investing in the North Smart Plant tracker is for more seasoned gardeners.
Are soil moisture meters accurate?
All soil moisture meters are accurate and predict readings much more precisely than human interpretations. The only difference is in the level of precision. Analog soil moisture meters will show the results on a scale that is limited compared to the pinpoint measure of digital meters.  
How do soil moisture meters work?
Most soil moisture meters will have a hygrometer that measures the volumetric content of water in the soil. Others will have electrodes that test the electrical resistivity and conductivity of the soil. If the soil conducts electricity better, it is adequately moist, as water acts as an electrolyte. Often, soil moisture is also determined by obtaining a certain volume element around the sensor after measuring the speed of propagation along a buried transmission line. 
Where to buy soil moisture meters?
Soil moisture meters are widely available online on either merchant sites like Amazon and eBay or directly on the manufacturer's sites as I have mentioned above. Some of your local hardware or gardening equipment stores may also have them but the stock might vary. 
Closure | Best Soil Moisture Meters
Always do your homework whenever you are looking to buy equipment that you have never used or seldom used before. Ensure that you have taken into consideration the specifics of what you require and what will work for you. For instance, the XLUX soil moisture meter might not work if you're only looking at it as the best option, but you proceed to use it on firm, clay soil.
In this case, either of the REOTEMP or the GAIN Express models will be your best soil moisture meter. Since these are usually delicate instruments, try to follow the instructions for the device and refrain from applying excess pressure while using them.