Are you searching for the best Bermuda grass seed for Texas? You are at the right webpage!
You may have seen turfgrass everywhere and may be bewildered by all the people taking time and effort to mow and maintain their turfgrass. Well, it is because a well-maintained lawn goes way beyond aesthetic appeal as it provides several health and environmental benefits. For starters, it cleanses the air by absorbing carbon dioxide, binds the soil to prevent erosion, and regulates temperature through evapotranspiration.
And we have yet to list down all the benefits, as words would not suffice when describing the joy of a homeowner spending time and making memories in their garden. So it is only natural that you would wish to buy the best products you can get your hands on, but that is not always an easy job.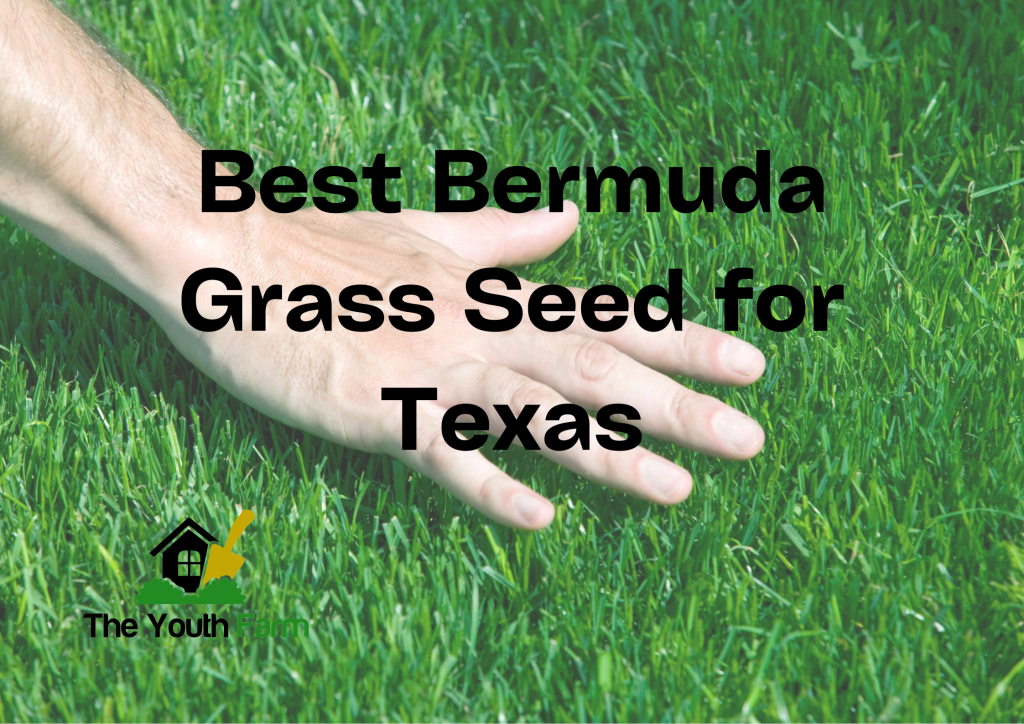 But cast your worries away as we are here for rescue, and the simplest thing you need to consider is the climatic conditions of the place you live. Do we hear Texas? As Texas would require a warm season turfgrass in action, we have one in store for you.
Bermuda grass is known for impeccable heat and drought tolerance and great recovery rates, and it grows very well in the southern parts of the country, which might make it just the product you have been looking for. Let's get started with the guide.
Best Bermuda Grass Seed for Texas | What is Bermuda Grass?
The answer to that question would depend on who you ask; for some, it is a relentless weed, while a jackpot for others. A couple of centuries ago, immigrants from Africa and India brought Bermuda grass to North America, where it quickly gained a reputation for being widely distributed. It is a fine-textured, warm-season turfgrass that propagates via above-ground runners called stolons and underground runners called rhizomes.
As mentioned before, Bermuda grass is warm season grasses and tends to work very well in drought-stricken hot climates and can remain green for the entire summer. They do take a passive role in winter months and might not do very well in the shade. These are excellent for arid climates where conserving water is a top priority because water withdrawal does not actually kill the grass; rather, it only causes it to shrivel up. However, watering can easily revive it.
Bermudagrass comes in different varieties, and the deviations must be taken into account. The first is common bermudagrass, which is distinguished by its coarse, leafy texture and light green color. With a few exceptions, these variants are typically available in seeded form. The common bermudagrass has entailed some improvements, though, and you can now find them with finer leaflets and a darker color.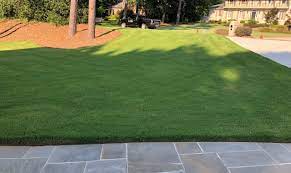 The other type is a hybrid bermudagrass created by crossing common and African bermudagrass, which has a finer leaf texture, increased density, darker green hues, and an overall higher level of aesthetic appeal. Due to the typical sterility of hybrid bermudagrass seeds, sods or springs are the preferred methods of planting.
And now that we are down with the basics, let us delve deeper into buying and maintaining this product to create the lawn of your dreams. We will start with the list of products we have curated for you and then take it from there. Also, please keep in mind that the list is not attempting to rank the products in any manner.
Best Bermuda Grass Seed For Texas
Pennington Smart Seed Texas Bermudagrass Grass Seed and Fertilize
Specifications:
Coverage area: 5000 sq ft.

Product weight: 8.75 lbs.

Germination time: 10 to 14 days.

Grass seed use: New lawn, overseeding.
Overview:
We already know that Bermudagrass is ideal for Texas, but this Pennington product goes the extra mile to fine-tune it to suit our demands down to the tee. The additional coating of fertilizer in this Texas bermudagrass seed mixture ensures both rapid germination and superior coverage. Other grass varieties are also included in this clever seed mixture, such as some cool-season grass seeds for shaded areas where bermudagrass cannot thrive or for when the weather turns cold. Your perseverance will be rewarded in 10 to 14 days with the 8.75 lbs of product covering an area of approximately 5000 square feet.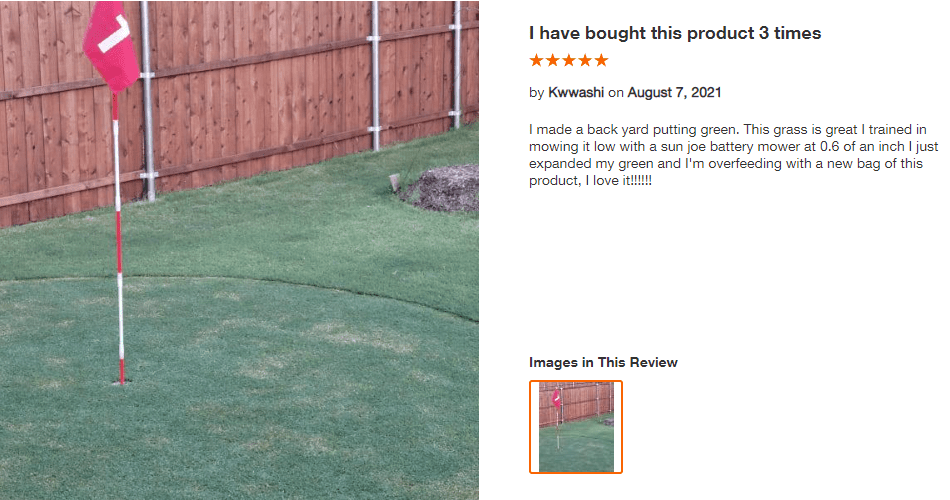 Pros
The seeds are not sterilized.

Fertilizer is included.

Contains cool-season grass seed as well.

Exceptional heat drought and traffic tolerance.
Cons
Several customers did not notice any growth despite following all the instructions.

The seed mix of warm and cool season seeds is inseparable.

Specific buyers also experienced weed growth.
Pennington Smart Seed Bermudagrass Mix
Specifications:
Coverage area: 5000 sq ft.

Product weight: 8.75 lbs.

Germination time: 10 to 14 days.

Grass seed use: New lawn, overseeding.
Pennington Smart Seed Bermudagrass Mix with 2x faster results 8.75 LB
Bermudagrass grass seed mix for southern, sunny lawns
Contains just the right amount of fertilizer to help your lawn succeed
Formulated mix that helps Bermuda lawns start strong and crowd out weeds
Offers fast establishment and strong coverage for 2x results
Exceptional heat, drought and traffic tolerance
Overview:
This product is quite like the one we mentioned above, with the only difference being the fact that this product is not specially catered to Texas but can be used in the hotter parts of the country regardless. The 8.75 lbs bag will cover 2500 sq ft of an entirely new lawn and 5000 sq ft in case of overseeding. The fertilizer coating ensures rapid germination and great coverage, and the smart seed mix with the added cool season grass takes care of shaded regions and winters.
Pros:
Fertilizer coating.

Smart seed mix, including cool season grass.

Great heat, drought, and traffic tolerance.

Rapid growth and great coverage.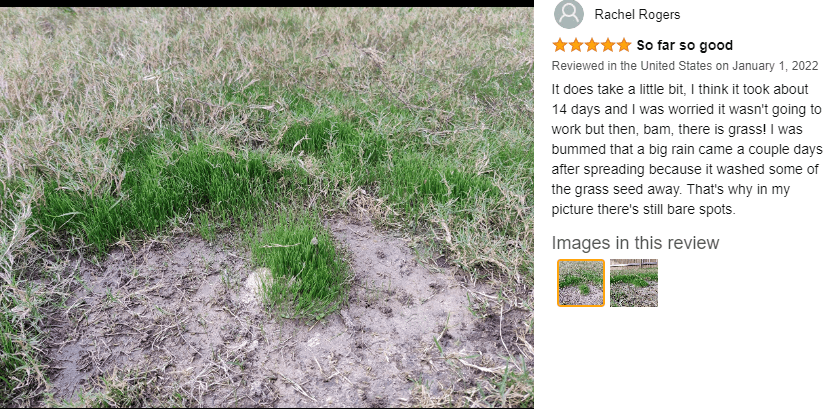 Cons:
Bermuda grass seed is not the primary product in this mix.

Some buyers experienced the growth of weeds.

The growth period may vary from what is mentioned in the bag, and some buyers experienced no growth at all.
Scotts Turf Builder Grass Seed for Bermudagrass
Specifications:
Coverage area: 5000 – 10000 sq ft.

Product weight: 10 lbs.

Germination time: 5 to 12 days.

Grass seed use: New lawn, overseeding.
Sale
Scotts Turf Builder Grass Seed Bermudagrass, Mix for Full Sun, Built to Stand Up to Heat & Drought, 10 lbs.
Designed for full sun, high traffic areas, and drought resistance
Exclusive 4 in 1 WaterSmart PLUS Coating absorbs more water, feeds with essential nutrients and protects seedlings from disease
Includes Scotts best seed, protects against disease, keeps seed moist 2x longer & feeds to jumpstart growth for thicker, greener grass, guaranteed
Aggressively spreads to fill in bare spots and crowd out weeds
Great for lawns challenged by long periods of scorching southern heat, drought, and bare spots
Overview:
This Scott's turf builder will perform as promised. The 10 lbs of product, which is sufficient for 5000 square feet of land, is made for full sun, high traffic areas, and drought resistance for the southern regions of the country, including Texas. Additionally, it has a company-exclusive WaterSmart PLUS coating that locks in moisture longer than uncoated seeds, accelerating germination and serving as a disease-protective barrier. You can achieve good results by using a great seed mixture with added advantages.
Pros:
High heat, drought, and traffic tolerance.

WaterSmart PLUS Coating.

Rapid germination.

Disease resistant.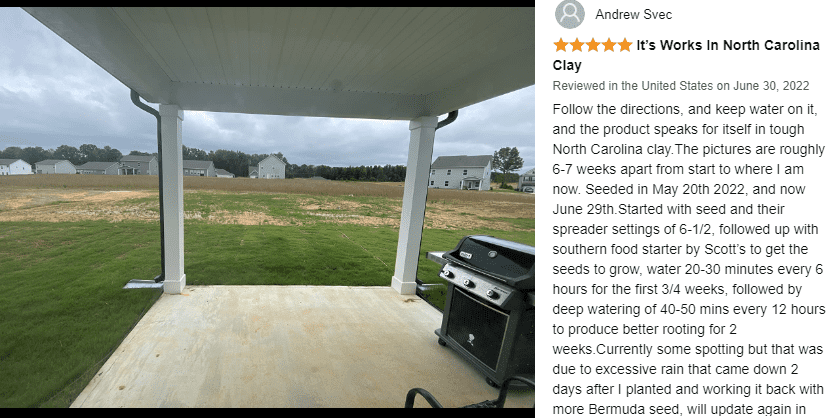 Cons:
The mixture includes weed seeds and may not be preferred by buyers.

Did not show any growth for several buyers.

Surprisingly requires a lot of water.
Scotts EZ Seed Patch and Repair Bermudagrass – Combination Mulch, Seed, and Fertilizer
Specifications:
Coverage area: 400 – 500 sq ft.

Product weight: 10 lbs.

Germination time: 10 to 14 days.

Grass seed use: Patch repair.
Sale
Overview:
Since it includes grass seed, mulch, and fertilizer, as you may have inferred from the product name, Scotts EZ Seed Patch and Repair is really unique. The mulch can hold six times its weight in water, and the fertilizer promotes growth while the seed does its job. Additionally, a tackifier is added to serve as a protectant, protecting the seedlings from pathogens and pests as well as preventing them from flushing.
Pros:
Combination of seed, mulch, and fertilizer.

Tackifier for enhanced protection.

A great patch repair product.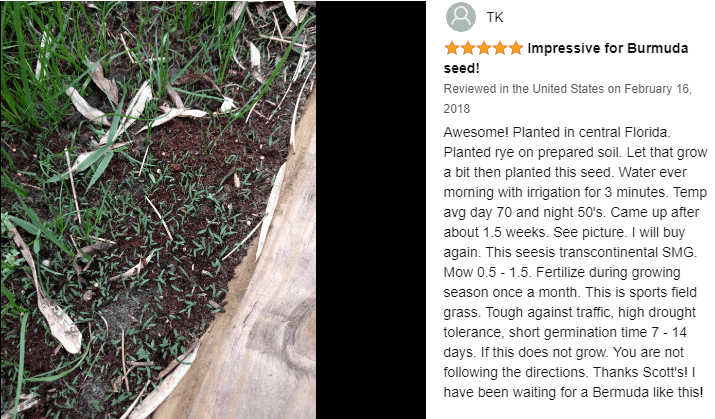 Cons:
Not for full-scale lawns.

Several cases of the product not showing any signs of growth.
Pennington One Step Complete Bermudagrass Bare Spot Grass Seed
Specifications:
Coverage area: 75-150 sq ft.

Product weight: 5 lbs.

Germination time: 7 to 14 days.

Grass seed use: Patch repair.
Sale
Overview:
Another spot repair product from a brand that has already been featured in this list, this Pennington One Step Complete Seeding mix might be just the thing you need. It is astonishingly simple to grow and surprisingly successful in areas with some light shade. You won't need to worry about anything because seed, mulch, and fertilizer are all included in one bag. Rapid germination could lead to a week or two of growth.
Pros:
The bag includes grass seed, mulch, and fertilizer.

Will work on slightly shaded areas as well.

Very easy application.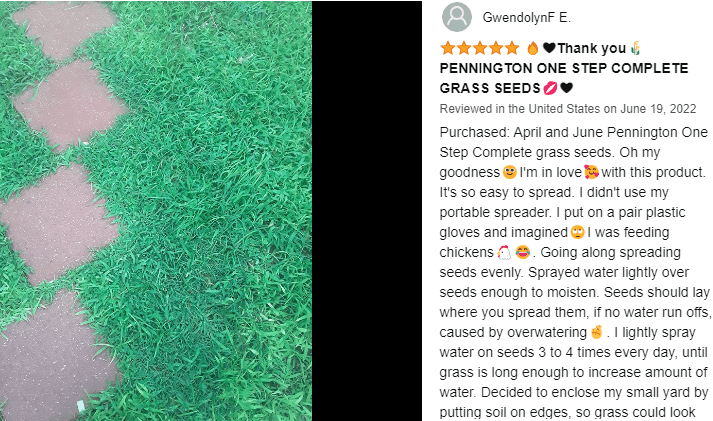 Cons:
The coverage area is very small, and the bag contains little amount of seed.

Low success rate.
Vigoro Bermuda Grass Seed Blend with Water Saver Seed Coating
Specifications:
Coverage area: 10000 sq ft.

Product weight: 10 lbs.

Germination time: 14 to 21 days.

Grass seed use: New lawn, overseeding.
Overview:
This Vigoro Bermuda Blend is for you if you'd like to cover a bigger area with visually appealing fine texture grass. The coating on the seeds helps them retain more moisture, hastens germination, and offers pest and disease protection. The bag's coverage capacity is explained by the fact that it primarily contains bermudagrass seed and is 99.9% weed free.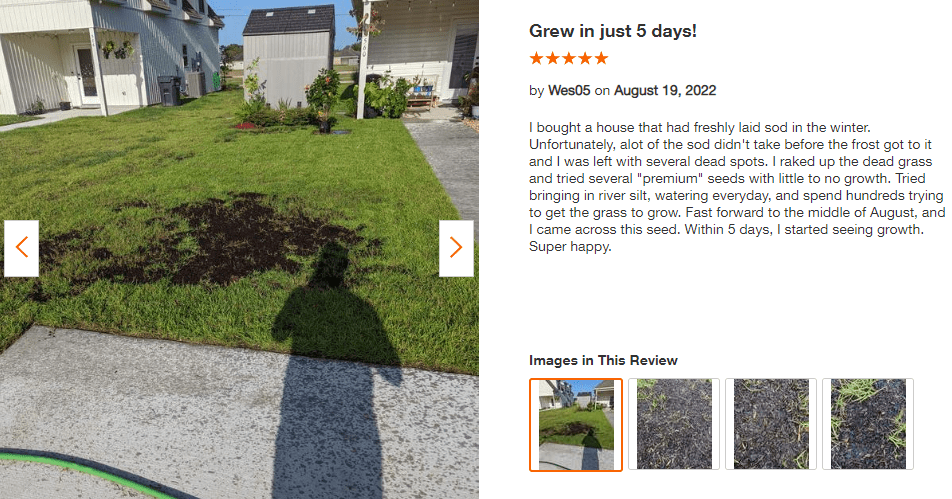 Pros:
Continuous repair technology

99.9% weed free.

Fine texture grass with a medium green color.

Great coverage area.
Cons:
Low success rate, as many buyers did not notice any growth.
Outsidepride Oasis Warm Season, Fast Growing Bermuda Lawn, Turf Grass Seed
Specifications:
Coverage area: 2500 sq ft.

Product weight: 5 lbs.

Germination time: 7 to 14 days.

Grass seed use: New lawn, overseeding.
Outsidepride Oasis Warm Season, Fast Growing Bermuda Lawn, Turf Grass Seed - 5 LBS
Bermuda grass is a warm season grass used in Southern states
Oasis bermuda grass seed is a blend of three of the leading bermuda grasses
Bermuda is a fast growing, aggressive grass which can crowd out weeds
This top notch bermuda seed blend can be used on golf course fairways and tees, sporting fields, parks, home lawns and commercial sites where full sun turf applications are desired
Plant at 2-3 pounds of seed per 1,000 square feet when soil temperatures exceed 65˚ F. Cover with soil no deeper than 1/4 inch. Keep the soil surface moist a minimum of 1 - 2 weeks or until the turf is established.
Overview:
Outsidepride is a small business, but they have accomplished some amazing things with this product. Oasis is a combination of improved turf-type bermudagrasses that were deliberately chosen to complement one another while also remaining extremely tolerant and adaptable. Transcontinental, Blackjack, and Maya make up the current blend. About 2-3 pounds per 1000 sq ft would be the ideal amount, and maintain moisture levels until the seeds sprout, which might take one to two weeks.
Pros:
A blend of three types of bermudagrass for optimal results.

Suitable for residential or commercial applications.

Coated.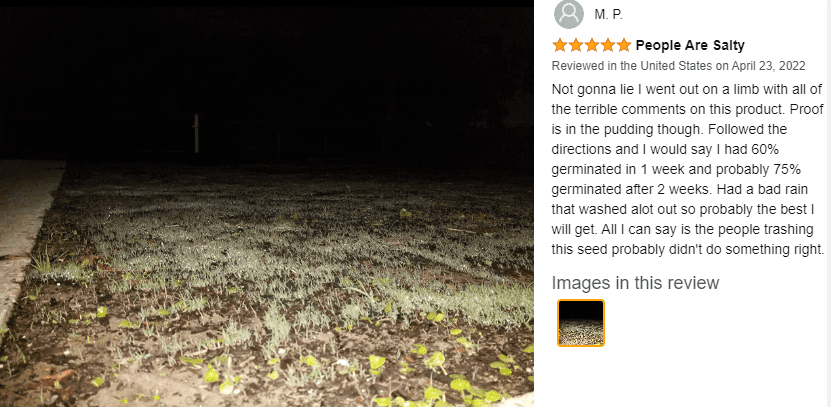 Cons:
Hancock Seed Co. Common Bermuda Grass Seed – Coated & Unhulled
Specifications:
Coverage area: 5000 sq ft.

Product weight: 10 lbs.

Germination time: 10 to 14 days.

Grass seed use: New lawn, overseeding.
Hancock Seed Co. Common Bermuda Grass Seed - Coated & Unhulled, 10 lbs.
Application or Use: Lawn, Pasture, Livestock Grazing, Cattle Forage, Erosion Control, Cover Crop, Ground Cover.
Advantages: Extreme drought and traffic tolerance with moderate tolerance to soils with poor nutrient.
When to Plant: Recommended planting time is spring and summer when nighttime temperatures are consistently 65+ degrees and 3 months prior to first frost.
Product packaging may appear different than what is pictured.
Overview:
We think building a lush green lawn from scratch should not be a task too difficult or demanding, and we are glad that Hancock shares our views on this subject. Hancock's Common Bermuda Grass is a low-maintenance option that can be utilized as a lawn, a pasture for livestock grazing, or as cattle foliage. In addition to being simple to maintain, it offers Bermudagrass's tolerance for heat, drought, and foot traffic.
Pros:
Residential and commercial applications.

It can also be used as grazing pasture.

Also available in larger 25 or 50 lbs bags.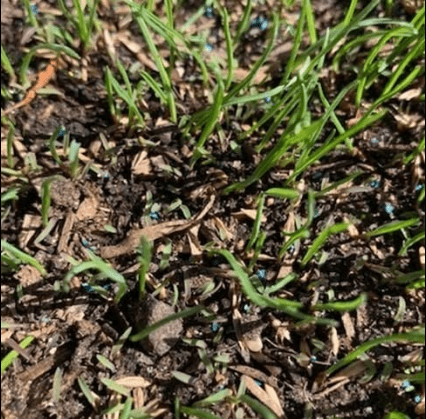 Cons:
A quarter of the buyers complain about the low germination rate.
Barenbrug Transcon Bermuda Unhulled Coated Grass Seed
Specifications:
Coverage area: 25000 sq ft.

Product weight: 50 lbs.

Germination time: 7 to 14 days.

Grass seed use: New lawn, overseeding.
Overview:
The Barenbrug Transcontinental can produce some of the most visually arresting hues and textures. A homogeneous leaf texture and enhanced turf density with all the benefits of bermudagrass come with an improved cold tolerance, so you do not have to worry about shaded regions or when temperatures begin to fall. Additionally, the patented Yellow Jacket seed coating from Barenbrug is used, which has the ability to trap and hold 600 times its own weight in moisture for quick and even germination.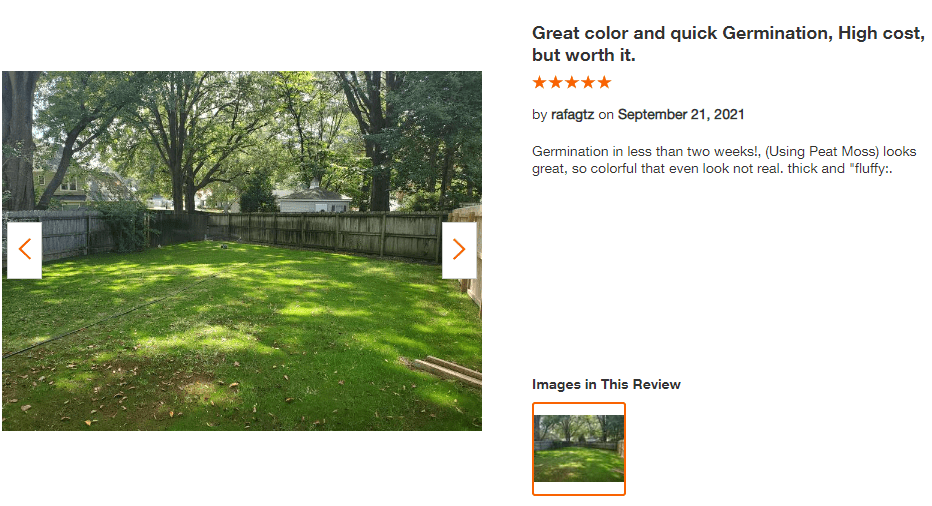 Pros:
Enhanced cold tolerance.

Uniform texture and density.

Striking color.

Yellow Jacket seed coating.
Cons:
One of the more expensive products.

Germination rates may differ.
SeedRanch Bermuda Grass Seed Coated/Hulled
Specifications:
Coverage area: 25000 – 50000 sq ft.

Product weight: 50 lbs.

Germination time: 10 to 14 days.

Grass seed use: New lawn, overseeding.
Overview:
Although there are smaller bags of this SeedRanch product available, the 50 lbs. bag will provide some of the best coverage areas, as can be seen. This product contains common bermudagrass that has been coated and hulled, providing the usual benefits of the product without being overly complicated to use and maintain. Works excellently in sandy soils.
Pros:
Great coverage.

Easy application.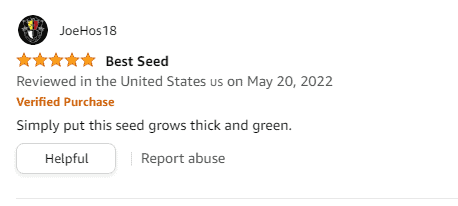 Cons:
Might not work on clay soil.
Outsidepride Blackjack Warm Season Drought Tolerant, Fast Growing, Bermuda Lawn, Turf Grass Seed
Specifications:
Coverage area: 12000 – 13000 sq ft.

Product weight: 25 lbs.

Germination time: 10 to 14 days.

Grass seed use: New lawn, overseeding.
Outsidepride Maya (Blackjack II) Warm Season Drought Tolerant, Fast Growing, Bermuda Lawn, Turf Grass Seed - 25 LBS
Growing Blackjack II Bermuda seed rewards you with a fine-textured, carpet-like, dark green Bermuda Grass turf. Maya grass seed produces a top-quality seeded Bermuda grass that is perfect for the home lawn, parks or sports fields. Grow a Blackjack Bermuda grass lawn and enjoy the unsurpassed dark green color in a seeded Bermuda grass.
This grass seed is also used for over-seeding an already established Bermuda turf. This vigorous, fine-bladed cultivar adds color and density to any warm-season blend. Maya lawn seed produces a sun-loving turf that performs throughout the hottest summer months, and in addition, Maya shows remarkable cold tolerance even in cold winter areas. If planting sprigs or plugs makes your back sore, consider Maya seeded Bermudagrass. You'll get a dense green lawn all summer long.
Seeding Rate: New Turf Applications: Sow 2 - 3 lbs. of coated Maya Bermuda Grass seed per 1000 sq. ft. Coated seeds are easier to spread and retain moisture better which improves germination.
A Maya Bermuda Grass lawn can be maintained at mowing heights from 0.5 inches to 2 inches. Applying 3 to 5 pounds of nitrogen per 1000 square feet per growing season is adequate. Do not remove over 1/3 of the leaf blade per mowing for healthy turf.
Bermuda Grass Adaptation: Across the Southern 1/3 of the U.S. Including Southern California, Arizona, New Mexico, Texas, Louisiana, Arkansas, Oklahoma, Alabama, Mississippi, Georgia, Florida, South Carolina, North Carolina, Virginia, Kentucky, Tennessee, and Hawaii.
Overview:
Despite the fact that bermudagrass is typically thought of as a warm-season turf grass that goes dormant in the winter, these Blackjack seeds are here to disprove that notion. With improved cold tolerance, it can endure the winter. With the incredibly fine texture, rich green color, and density that some might compare to an emerald carpet, you can create a unique visual aesthetic. Ideal for one-third part of the country including Texas.
Pros:
Fine textured leaves with dark green hues.

Great density.

Enhanced cold tolerance.

Heat, drought, and foot traffic tolerant.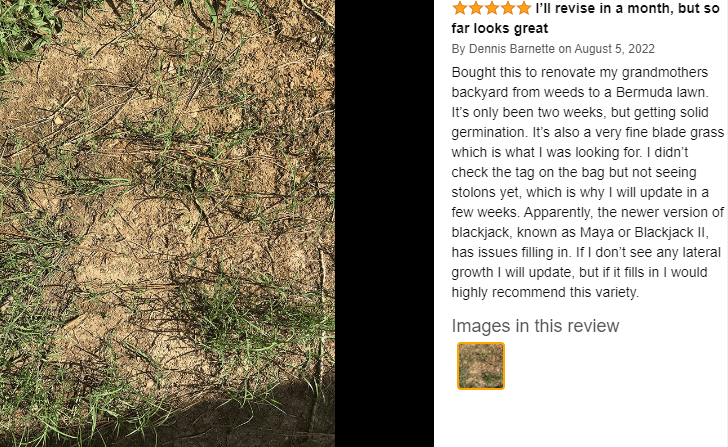 Cons:
A small percentage of seeds are in the bag.

Germination rates may vary.
Care and Maintenance
Sunlight
Sunlight is arguably an essential aspect that would contribute to the health of a warm-season turfgrass like Bermuda. So plentiful sunlight is recommended and preferably in areas that are not shaded. 7 to 8 hours of sunlight works well for most kinds of products, and you can maybe cut a few hours with some shade-tolerant products in the market today, but no sunlight is definitely not an option.
Watering
Bermudagrass does not require loads of water to thrive, as an inch in regular conditions and 2 inches in hotter weather would suffice. And if you cannot do so, then worry not, as lack of watering will not kill the grass but just cause it to go dormant as they shrivel up and turn brown but can be easily revived. The only thing that is detrimental to your turf would be an excess of water or standing water, so make sure you drain excess water very well.
Fertilization
A fertilizer with nitrogen, phosphorus, and potassium generally encompasses all the requirements of bermudagrass. The percentage of fertilizer to be used is generally mentioned in the packaging, but if you are not sure, then you can opt for a soil test and analysis. Nitrogen is paramount in the spring and summer months for a fresh lawn to grow, and potassium dominates in the fall for enhanced drought tolerance and root growth.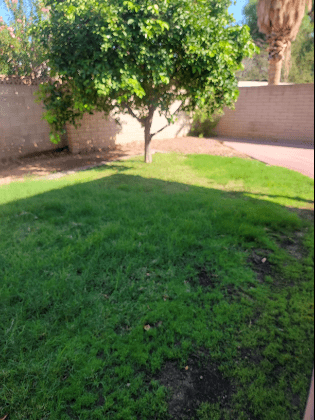 Do read the instructions before applying any fertilizer, however, as misapplication can do more harm than good. And if you are still unsure, it is always a good idea to get help from professionals.
Mowing
As bermudagrass has a tendency to grow quickly, we do recommend mowing regularly. The height of the grass between 0.75 to 1.5 inches generally serves to be ideal. Make sure to keep the blades sharp, as dull blades will do more harm than good as they tend to tear the grass, making them brown, which not just lowers the aesthetic value of your turf but also creates a gateway for pathogens. Using the mulch setting on your mower can prove to be beneficial as it enriches the soil naturally.
Core Aeration
This method involves removing soil plugs from a lawn with the goal of improving airflow. Better drainage and fertilizer absorption into the soil are also benefits of this process, in addition to better oxygenation of the soil. The fact that core aeration causes stolons to be cut up, which leads to their proliferation, should also be acknowledged as a contributing factor to the improvement and health of the lawn.
Nutrients
As we are focusing on the southern parts of the country, it is worth noting the soil pH in those regions. Bermudagrass requires a neutral pH for optimal growth, but the acidic nature of the soil might hinder that. You can use mild bases like lime to balance the pH levels.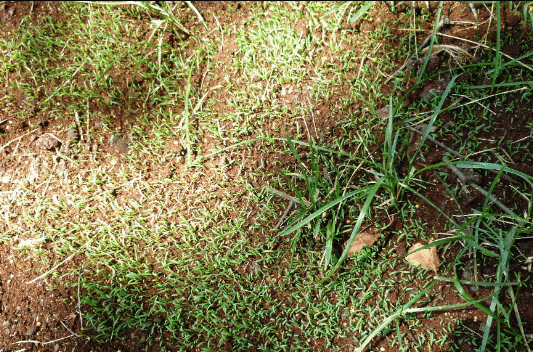 Disease, Insects, and Fungi
Although Bermuda grass is typically disease-resistant, there are a few to be aware of. Fungi are the cause of dollar spots, which are tiny, circular lesions with a diameter of a few inches that can spread out to be several feet long. By maintaining proper water levels, nitrogen levels, and mowing heights, it is easily avoidable. A pesticide may be necessary if moth larvae are present because they feed on the leaf blades of several turfgrasses, including Bermuda.
Advantages
We have talked plenty about bermudagrass up till this point but let us take a step back and look at all benefits it can offer.
Incredible heat and drought tolerance.

The roots grow to deeper layers of the soil profile to access underground moisture, which is why it performs well in droughts.

It grows very rapidly and completely outdoes weeds in its establishment rates.

Bermuda grass has recuperative properties, which allow regeneration in case of any damage.

It is generally resistant to diseases.

Salinity tolerance.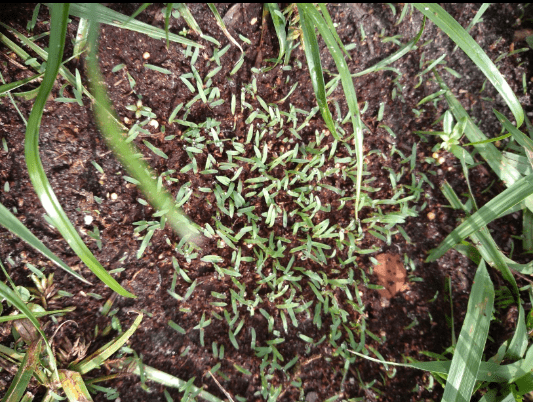 Disadvantages
As good as a product may be, there are certain places it does miss, and it is equally important to discuss those to make a firm decision. Here are some of the cons of bermudagrass.
Bermuda grass spreads very quickly and might subsequently take over adjacent lawns.

Does not do very well in the shade, so it might be ineffective in certain parts of the house which does not receive sunlight.

The quick growth also calls for regular mowing.

Substantial fertilization requirements.
Buying Guide |
Best Bermuda Grass Seed For Texas
As we may have established up till this point that there are several considerations to keep in mind while choosing a turfgrass. Aesthetics may be your ultimate goal, but we also need to make sure you make optimal choices that would work for you, so you do not end up with a product that found no use. Let us look at some of these factors below.
Geographic Location
We have been referring to Bermuda as a warm-season turfgrass, which may have prompted a number of logical inquiries about the appropriate types of grass for various climates. And you would be right to think so. Since warm-season grass cannot survive in colder temperatures and vice versa, it makes sense that the climate of the area where you live is a crucial factor. Bermudagrass is, therefore, perfect for the country's drier southern regions, like Texas.
Germination Period
Depending on how rapidly you wish your foliage to grow, the germination period may also need to be taken into account. This varies between brands because various producers may or may not use strategies to hasten the germination process with the aid of some coatings. Besides providing a barrier of protection, these coatings might also help with fertilization. So make sure to read the package well to not miss out on such information.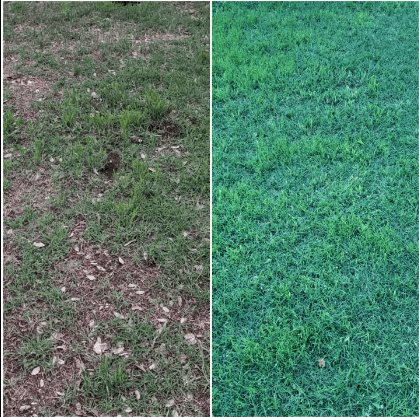 Aesthetic Value
The color and texture of the grass will instantly make or break your lawn aesthetics, so if you want your lawn to be a real eye candy, then keep these in mind. Bermudagrass, however, is a fantastic option in that regard, though the color and texture may differ depending on the brand or whether you choose the common or hybrid varieties. Also, keep in mind that your lawn might turn brown during the winter, and if you want a lush lawn all year long, you might want to overseed your lawn with some other turfgrass seed.
Shade Coverage
As we have learned prior about bermudagrass doing poorly in the shade, it would definitely be a good idea to estimate the shaded areas of your lawn and how much sunlight they roughly receive in a day if at all. If the hours of sunlight are less than the recommended time, then you may want to look for more shade-tolerant grasses, or you can mix those with bermudagrass as well.
Foot Traffic
If you have children and pets who like to run around in the garden or if your garden is a spot for you to host parties, then it is natural to worry about what all that wear and tear might do to your grass. But cast your worries away for this one, as bermudagrass is exceptionally tolerant to wear and tear.
FAQs | Best Bermuda Grass Seed For Texas
Is Bermuda grass drought-tolerant?
Yes, as we have established before, Bermuda grass is highly drought tolerant and requires only about 1 inch of water on a regular basis and an extra inch in hotter weather. Infrequent or no watering will also do as the grass simply goes into a dormant state.
When should you plant Bermuda grass?
Quite like any other warm-season turfgrass, bermudagrass also germinates the best when the temperatures start rising, so planting during spring would do.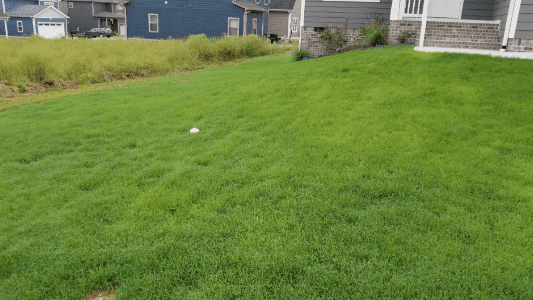 How long does Bermuda grass last?
Bermuda grass can go for about 60 to 90 days without water in a dormant state but definitely for longer if proper care is taken.
How Much Grass Seed Do You Need?
Depending on your needs and whether you are overseeding or seeding a new lawn, the amount of seed you may need may be very different. Whatever the purpose, your product's approximate coverage will be stated on the bag. Typically, 1 lb of product covers 1000 sq ft for overseeding and 500 sq ft for a new lawn.
How long does Bermuda grass take to grow?
The germination process usually takes about 7-14 days under optimal conditions.
What kills Bermuda grass?
In all fairness, it is pretty difficult to get rid of bermudagrass and may require you to resort to some herbicides to remove it permanently.
Closure
Bermuda grass is a unique combination of style and substance. We have attempted to do justice to the product by going into great detail about the available products in the market and their relative differences, and what makes a good product in the first place. Also, we have tried to incorporate some simple maintenance tips, which will go a long way for a product as tolerant as this one.
We hope with the information you received today, you may have learned a thing or two about the steps to create the lawn of your dreams. If you think we have missed anything that might have slipped through the cracks or you have any further queries, then please reach out to us. We hope you have a great day.