Worried you haven't been as involved as others and have missed out on Simplicity Broadmoor reviews? Fret not, as we have gone the extra mile in bringing all available information to you through this article. Here, we have compiled everything you should look for and know about this in-demand lawn tractor!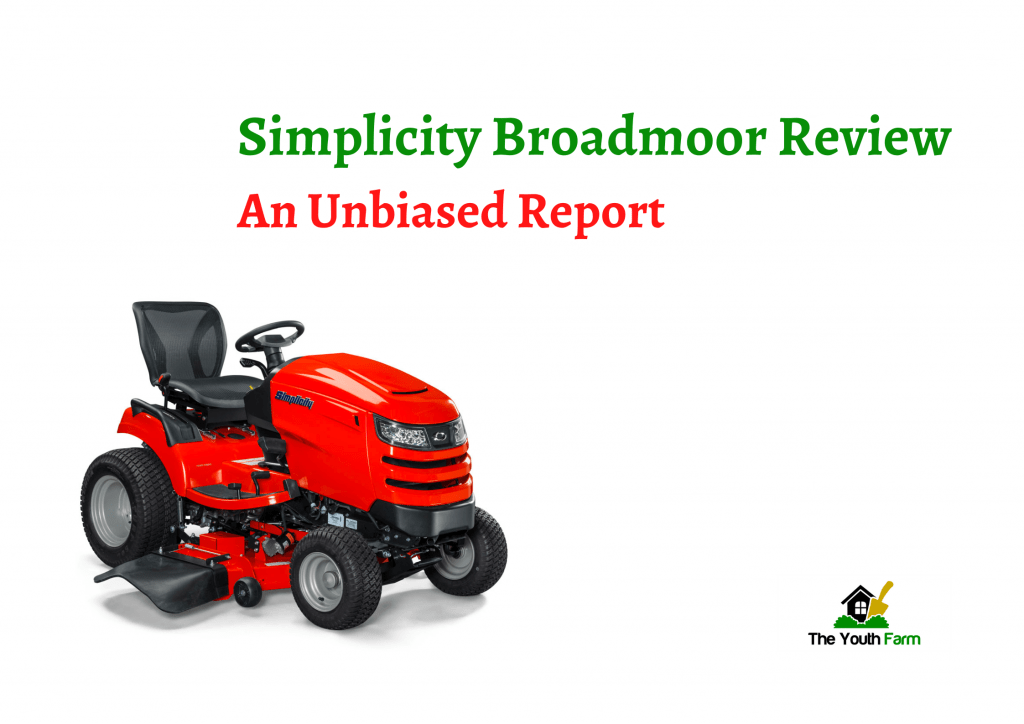 Lawnmowers have recently undergone a rapid phase of revolutionization that has seen them develop a variety of additional features. Accordingly, lawn tractors or ride-on mowers like the Simplicity Broadmoor Lawn Tractor have grabbed headlines with their cutthroat efficiency. Moreover, the global ride-on mower market is anticipated to reach US$ 3,778.1M by 2027 end as per this report.
Customers generally go for these kinds of mowers because of their tenacity to mow large stretches of lawn spaces in a considerably lesser span of time. Additionally, unlike zero-turn mowers, the steering aspect is simpler since these mowers come with a steering wheel. Research shows that these secure operational capabilities are one of the critical factors which are increasing the adoption of ride-on lawnmowers. The US Census Bureau also claims that landscaping services revenue in the US is expected to reach 102.39 USD billion. Let us proceed to what your hunt for lawn tractors like these must include!
Simplicity Broadmoor™ Lawn Tractor is a ride-on lawnmower that uses Simplicity's signature Free Floating Mower Deck for seamless lawn maintenance. Additional features include automatic deck height adjustment and a convenient control panel. Powered by the reliable Briggs & Stratton PXi Series™ Engine, it also ensures automotive-style functioning in all weather conditions. If you're looking to know more about the specifics, read on below!
See Also: Husqvarna Riding Mower Review: An Unbiased Report
Simplicity Broadmoor Reviews: Is It Effective?
Simplicity Manufacturing Company is a company based in Port Washington, Wisconsin, USA, and the Simplicity Broadmoor lawn tractor is manufactured in assembling factories in the state. Acquired by Briggs and Stratton in 2004 for $227.5M, they have become a force to reckon with in the lawnmower market ever since. Like other brands, promotional programs include Synchrony Bank and Sheffield special financing offers as well as special rebate programs for military members, first responders, and licensed medical professionals. Their return and refund policy seem a little strict as they do accept a return of the Product for a refund of your purchase price, less the original shipping and handling costs But only, provided such returns are made within thirty days of shipment and are returned in their original condition. It is also reliant on whether the mower was bought via a local retailer or online. Coming to parts, their website claims that the local dealer will be the one-stop solution for any customer who needs their Simplicity Broadmoor lawn tractor repaired. Customer contact guides are also available for reference along with operator manuals.
Amazon could not reveal much of the market patterns, however, as only two customers had reviewed the mower. But almost everywhere buyers were impressed with how easy it was to use multiple features on this lawn tractor. Quality of cut and ease of operation were some of the other things that seemed to elevate the lawn-mowing experience for customers.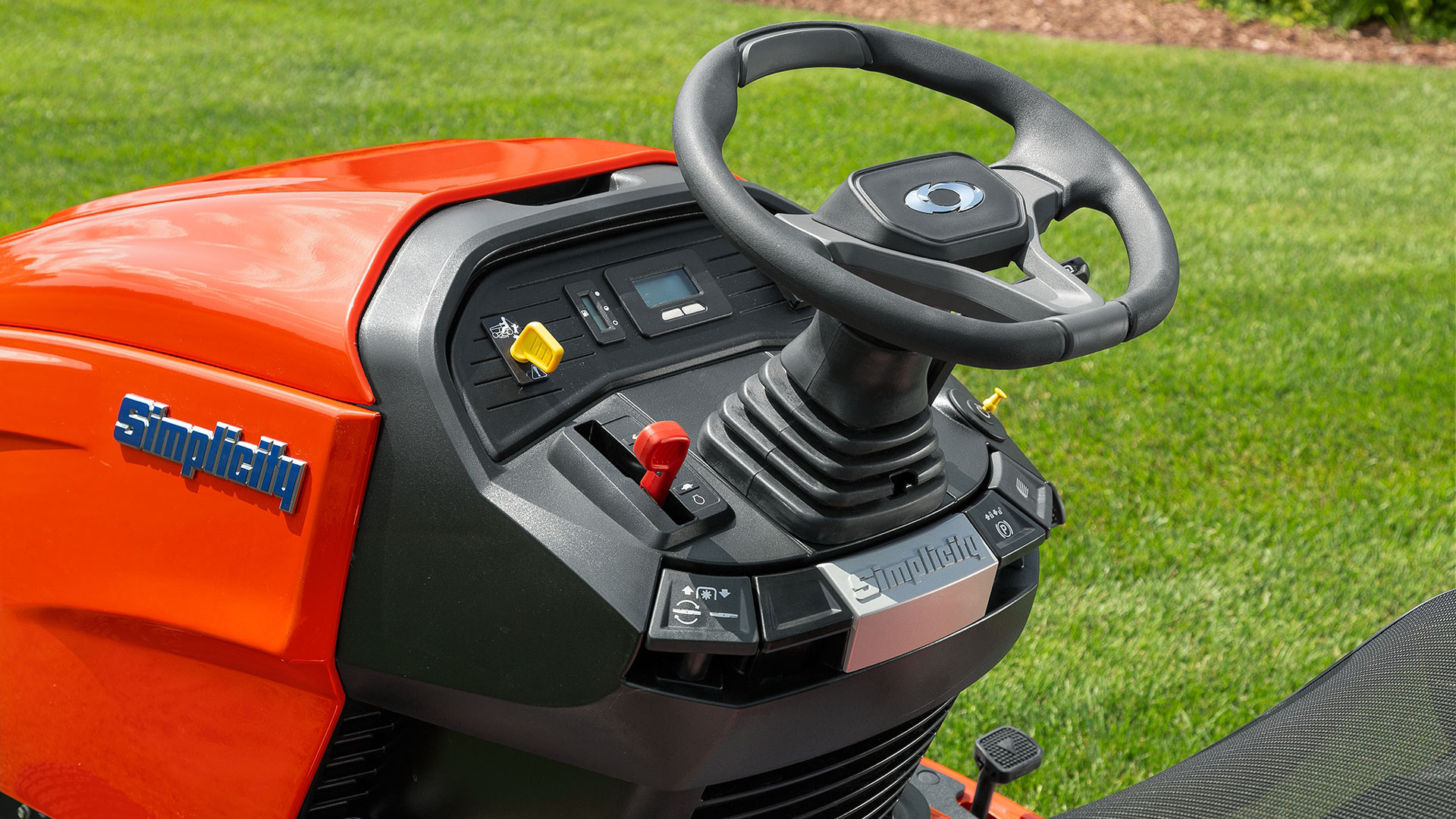 A thread on tractorforum revealed that a 2001 Simplicity Broadmoor model had clocked up 439 hours and had supposedly been used for a good 15 years. However, that number is an exceptional figure, since the machine had been maintained very well. Overall, most mowers will last around 10 years, but that may vary depending on where and how much you choose to use it as well as the interval of servicing. Regardless, they have a designated dealer network that can allocate proper replacement parts, manuals and help you out with warranties. On top of that, servicing does not seem to be an Achilles heel for them, unlike quite a few other brands. With those insights at your disposal, let us investigate how the lawn tractor works on a more minute level. 
Simplicity Broadmoor | How Does It Operate?
Now you might not have consulted too many Simplicity Broadmoor reviews before looking up ours. In that scenario, you must be pondering, "Is this how it's supposed to work? " or " What should I ensure is working properly to get the most out of my lawn tractor? ". One of the best features of this lawn tractor is its PXi Series V-Twin riding mower engine. An advanced debris management system helps them run cleaner and longer by deflecting and ejecting grass and debris, providing longer life. On the other hand, a full pressure lubrication system continuously feeds oil through the premium oil filter and crankpin bearing for enhanced durability and longer engine life. Enough acceleration can allow it to go up to a maximum of 5.8 mph in the forward direction, and up to 3.5 mph while backing up. 44-inch mowing decks are one of the few options available and are generally sufficient to take care of lawns of all sizes. However, if you have a very big lawn it would be best to get the 52-inch mowing deck.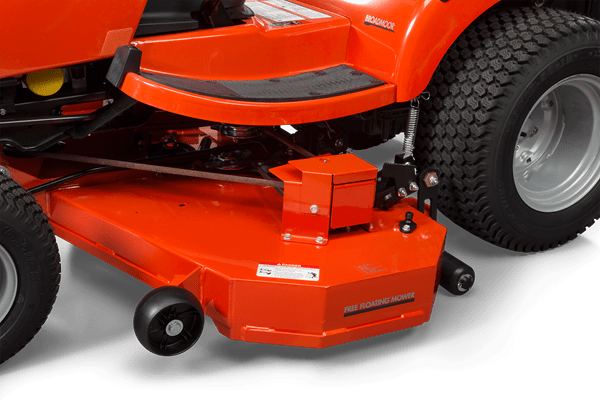 The full-width rear rollers provide a smooth finish and allow you to create dramatic ballpark-style lawn stripes. As I've explained before you can control the cutting height with the touch of a button on the control deck. Moving on to the exterior, it has a cast-iron front axle and a spindle made of cast aluminum. The fact that it also makes use of a 12-Gauge mower steel gauge in its deck is testimony to how durable it is; compared to the industry-wide usage of 7-Gauge mesh. Attachments also include a 10-cubic ft., multi-purpose cart, a 36″ tow-behind gas-powered tiller, and a wide-body cart collector among other utilities. Overall, the Simplicity Broadmoor lawn tractor seems to be a powerful alternative but does have a few flaws. Keep reading to discover what those are!
Simplicity Broadmoor Advantages
Referring to several Simplicity Broadmoor reviews, revealed a number of positives for this lawnmower. Those points have been neatly arranged below so you can refer to them collectively:
Exclusive rear Suspension Comfort System™ (SCS) reduces the impact felt at faster mowing speeds

Ergonomic mesh seat keeps you cool and comfortable

From the clock, hour monitor, height-of-cut adjustment, to the easy-to-use push-button start, everything you need is right on the Broadmoor's dashboard

Simplicity's Signature Free Floating™ Mower Deck follows the contours of your lawn, providing an even scalp-free cut

Reduce steering effort for a more enjoyable cutting or plowing experience with the automotive-like power steering (48" – 52" deck units only)

Hydrostatic transmission allows power transmission to remote areas, infinitely variable speed control, self-overload protection, and dynamic braking

Briggs and Stratton's engines have optional no choke starting with ReadyStart® for Ride feature 

Chrome-plated exhaust valves and super finished crankshaft help to reduce friction, and minimize wear for extended life.

Makes use of the

Tuff Torq K57

(K62 high-speed option) transmission often regarded as the "Swiss Army Knife" of transaxles.

Stamp and Fabricated deck options for mower deck
Simplicity Broadmoor Problems
Simplicity Broadmoor lawn tractors are designed to be more inclusive and heavy-duty than their zero-turn or tow-behind counterparts. However, that does not render this gardening equipment free of errors. As I surfed through numerous Simplicity Broadmoor reviews, these were the common mistakes that kept popping up:
Wider turning radius due to bigger dimensions

Lower top speed than zero-turn mowers

Requires regular tuneups, oil changes, and blade sharpening

Bagging kits, mulching kits and other equipment cost extra, and even as a one-time investment it turns out to be quite expensive
Looking for a complete list of Simplicity Zero Turn Mower Problems? Here are all problems with solutions.
How To Use the Simplicity Broadmoor?
As most Simplicity Broadmoor reviews will tell you, the operation may be a bit confusing if you have not used ride-on mowers before. But don't worry, I have listed down all the basic steps on how you should start and use the lawn tractor. I have tried to eliminate as much of a technical niche as possible but I would implore you to get acquainted with the parts after referring to the operator's manual. Refer to the steps below to make sure your lawnmower is functioning optimally:
Check the oil level. 

Make sure that the equipment drive controls are disengaged. 

Sit in the seat and lift UP the seat adjustment lever to lock the seat in position. 

Engage the parking brake control. Push the brake pedal, pull OUT the parking brake control, and release the brake pedal. 

Push the PTO switch to disengage it. 

Set the throttle/choke control to the CHOKE position (if equipped). 

Make sure that the starter insert is installed in the ignition switch. Push the start button two times and hold until the engine starts. 

After the engine starts, move the throttle/choke control to half speed. Turn the engine ON for at least 30 seconds. This will warm the engine.  

Set throttle/choke control to the FAST position.

Sit in the seat and adjust the seat so that you can comfortably reach all the controls. See Features and Controls. 

Engage the parking brake

Fully push down on the brake pedal. 

Pull UP on the parking brake control. 

Release the brake pedal. 

Make sure the PTO switch is disengaged. 

Start the engine. 

Disengage the parking brake:

Fully push DOWN on the brake pedal. 

Push IN the parking brake control. 

Release the brake pedal.  

Push down on the speed control pedal to move forward.

Release the pedal to stop. Note: The further down the pedal is pushed the faster the tractor will move. 

To stop the tractor, release the speed control pedals, set the parking brake, and stop the engine.
Talking Points | Simplicity Broadmoor Customer Reviews
Having used the Simplicity Broadmoor lawn tractor, Jadon mentioned, "I bought this mower to replace the Simplicity Broadmoor tractor that I purchased in 1993 (it was still running and cutting great, but my wife thought it looked a little beat up and said I should get a new one – I didn't want to argue…). I am just as pleased with this new mower as when I bought the old one! In 1993, I looked at all the models out there, and settled on the Simplicity, mainly because I wanted the roller on the back of the cutting deck to give my yard the "baseball field look" – no other tractor at the time offered it. However, I was quickly impressed with the build, quality, maneuverability, and ease of operation and maintenance. The endurance and longevity of the equipment sealed the deal – with the recent purchase, no other mower manufacturer was even considered."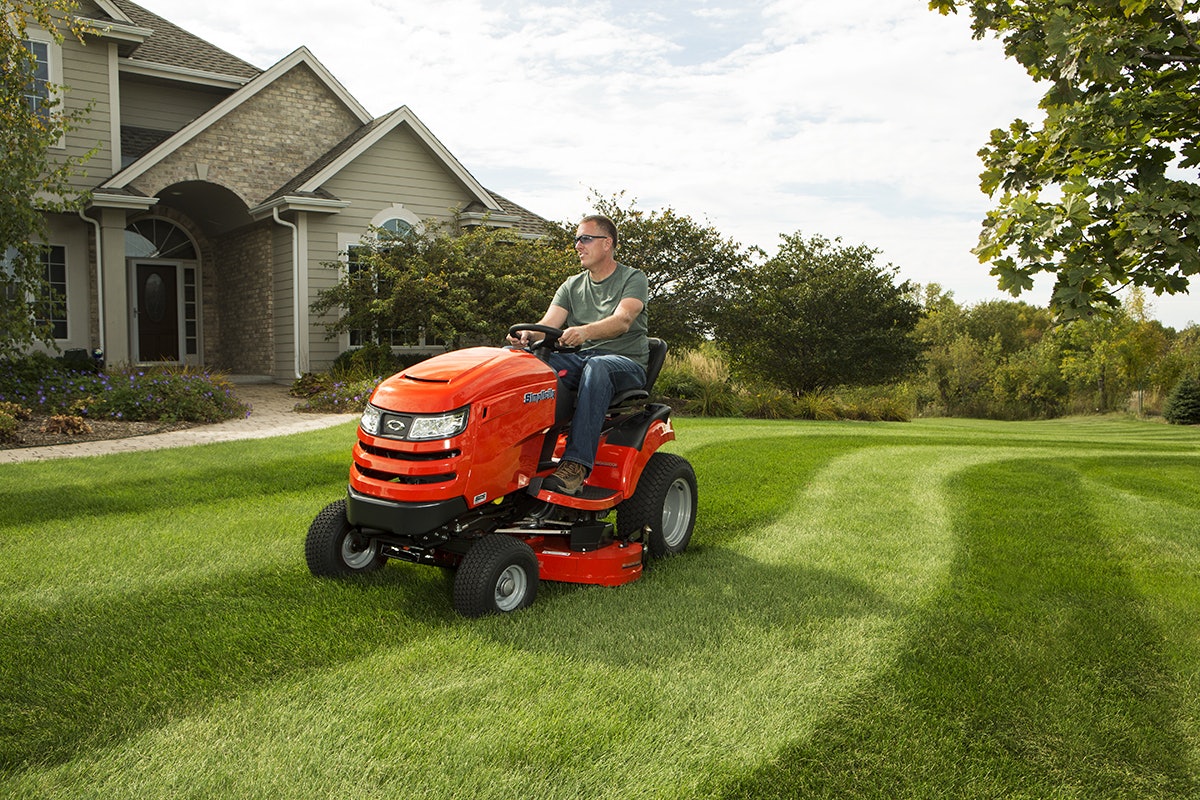 Laurie, another customer, was more specific about the lawn tractor as he pointed out some key differences, "I have a Broadmoor with a 44″ deck. for the work that I do around the yard, I didn't need anything else. this is a 2020 mower that I got mid-Apr 2021. Though it was brand new, the seat was defective & the dealer is replacing it. the quality of the cut is excellent. adjusting the cut height is very precise as you have control of the deck since it is raised & lowered by an electric motor. power seems to be just fine for my needs. as far as to use for other yard work functions it does just fine. the ride is comfortable & makes my very rough yard seem smoother. Pulls steep grades well with no issues. I purchased this mower because I was tired of other brands lasting about 5 yrs. Hopefully, this one lasts longer. The list price of the mower was $3700 & I was able to get it for less. (work with dealer)"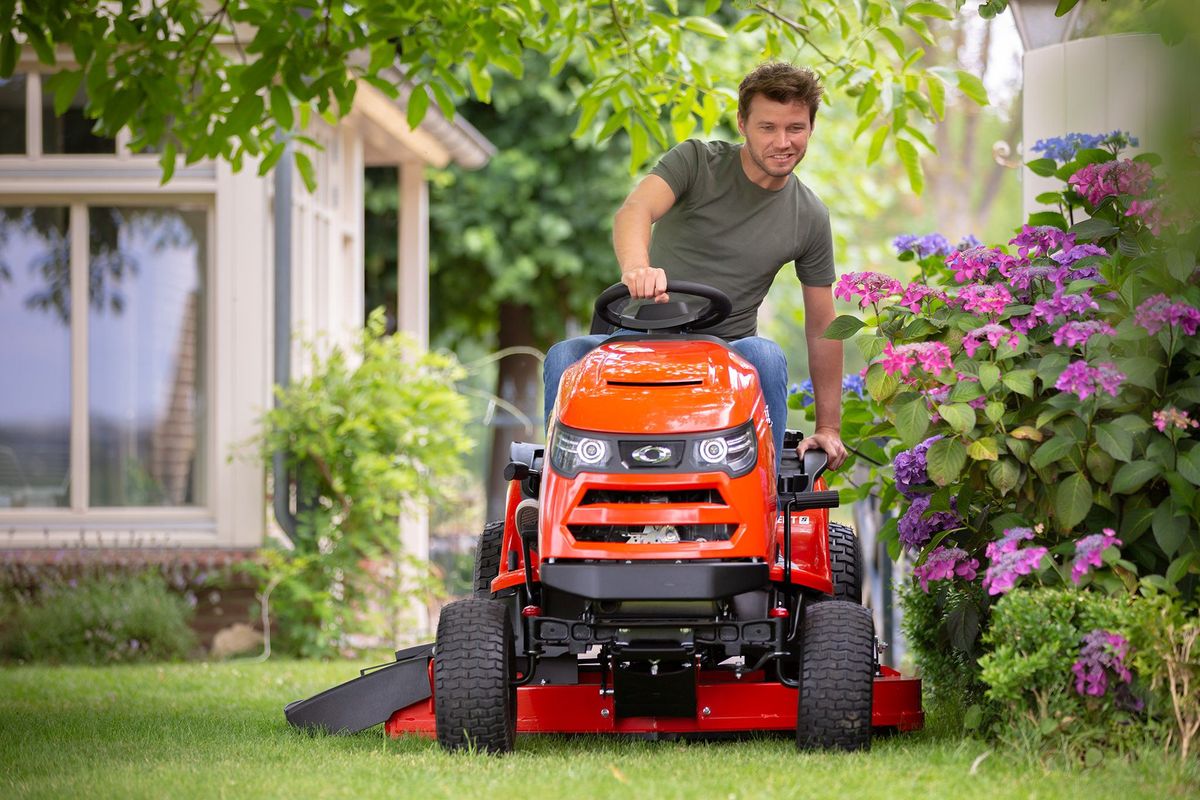 Michael Fernando was another happy buyer as he exclaimed, "I was torn between the Broadmoor and a small Kubota Zero Turn. When the dealer told me he uses the Broadmoor at his home, on a lawn similar to mine, that made up my mind. He sells hundreds of mowers every year and could take home any of the ones as he pleased. If it's good enough for him then it surely is good enough for me! Love the quality of the cut and the comfort is great for a big man. It has a great seat and lots of legroom. The versatility of adding attachments is a plus over the zero-turn also. Best choice for me!"
FAQs | Simplicity Broadmoor 
This section will look to answer any doubts you might still have regarding the Simplicity Broadmoor lawn tractor. Hopefully, these will help you get more clarity on this lawnmower and allow you to make an informed decision regarding its purchase! 
How to Start Simplicity Broadmoor?
I've referred to the steps necessary for the same above. In the event of an emergency, remove the starter insert key to immediately stop the tractor and engine. If the engine does not start after repeated attempts, contact an Authorized Service Dealer. 
How Much Is a Simplicity Broadmoor Worth?
The Simplicity Broadmoor lawn tractor is available on Amazon for $5199, however, the prices are susceptible to change. Tractor house is another online domain that has this ride-on mower available for sale along with its parts and accessories. 
What Year Is My Simplicity Broadmoor?
You can identify your Simplicity mower by locating the product identification label on your unit. To locate the product identification label you can use Simplicity's model number locator. The product identification label contains the model number and a serial number of your Simplicity mower.
Closure | Simplicity Broadmoor Reviews 
In this review piece, I have tried my best to supply all types of data that you may look for in Simplicity Broadmoor reviews. One of the main things I have experienced while looking for lawnmowers is that mainstream websites like Amazon have little to look for. Although you may get the entire product from such retail sites, obtaining information about individual parts is a Herculean task. You may also find a bit of technical language and have difficulty identifying parts. However, with the video guide I have attached, it should be considerably simpler. I would, however, implore you to consult more reviews and ask your local dealer for more details on the same, before you choose to buy it.  
Simplicity Broadmoor lawn tractors are highly-priced alternatives but mostly because they are a solid one-time investment option for experienced and amateur gardeners alike. Though the warranty coverage may be bothersome, it is one of the best ride-on mowers available on the market at the moment. Without that, this lawnmower is absolutely top-notch for regular use and in maintaining your gardening space!